 Acronis Backup Advanced for PC 12 vs Symantec Norton Security Premium
Posted by
Paul Wilson
on 23.10.2016
5% Off Acronis Advanced Backup for PC 11.7 + FREE Upgrade to ver. 12 Coupon
(check all promo codes)

$119 $113


No code required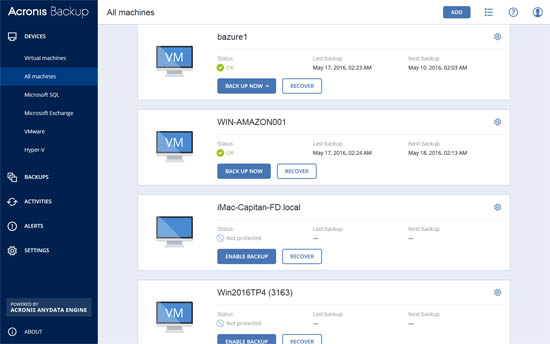 Symantec Norton Security prides itself as the best anti-virus and anti-malware security company in the world. With more than 10 different licenses, the new Symantec Norton Security Premium is definitely one of the best new security and backup software you can consider for now. The security software comes with the following features:

- Can protect up to 10 different devices on difference OS, including Mac, Windows, IOS, and Android devices.
- Provides anti-phishing test scores, as well as result of all malicious URLs blocked.
- Smart firewall provided 24/7,
- Provides Spam filtering systems ,
- Provides password management features,
- Optimizes performance, based on your systemís functionality.
- Comes with a cross-platform suite that provides Parental control feature.
| | | |
| --- | --- | --- |
| Features | Acronis Backup Advanced for PC version 12 | Symantec Norton Security Premium |
| Online backup storage | Unlimited online and cloud backup storage space | Backup storage space of up to 25GB maximum |
| Protection capabilities | Can provide ultimate protection for all systems or devices | Has limited backup and protection for all IOS devices |
| Syncing of backup files | Provides adequate and easy Syncing of all files and data backup | Has no syncing feature for backup files |
| Costs | More expensive to operate | For less than 60$ you can get licenses for the software for more than 5 devices per year |
| Disk management and disaster recovery solutions | Available | Available depending on the type of subscription |
Getting started on Symantec Norton Security Premium is quite easy, all you need to do is to create a profile on your Norton account, online, and you will have to confirm your profile before a product key is sent to you. Once this is completed, you can imply download both the product and the installer, once and for all. Regardless of the platform or Operating system you are using, the download installer will search and download the right product for you
If you are used to the Norton Security Deluxe window, you will notice that the window is just the same. The window comes with a large panel where you can backup, and this panel joins other panels - Performance, security, Identity, and More Norton. Click on each panel to access more components for instance, a click on the Backup will show other backup buttons such as; Restore Files, Run Backup, and More storage.

Using this software for 1 year will cost you less than 60$ and it is slightly more expensive than the Norton Deluxe edition but the price cannot be compared to the value you get for your money.