Paragon Hard Disk Manager 17 Advanced Review 2023: A Backup and Recovery Tool with Disk Management Capabilities
Paragon Hard Disk Manager 17 Advanced is a professional solution that lets you manage hard drives, optimize your PC's performance, and protect your data. It can clone, migrate, partition and resize drives in order to optimize the performance of your computer.
It also offers options for creating system images and making backups. This software can help you recover lost data in case of a system crash or unexpected shutdown.
With Paragon Hard Disk Manager 17 Advanced, you can manage all aspects of your hard drive – from copying files to cloning partitions or entire drives. It also lets you quickly recover lost data or perform repairs on damaged disks.
---
PROS:
Easy to use interface
Full uEFI support
Advanced disk partitioning features
Universal image mounter
GPT/uEFI compatible backup capsule
High performance and stability
Fast migration to all devices, like new HDDs, SSDs, and virtual machines
VM support
Price
CONS:
I couldn't find any

significant disadvantages

but if you are not familiar with the basic principles of backup/recovery software Paragon Hard Disk Manager Advanced may seem a little complicated for you
No FREE cloud storage integration
---

March 2023 Deal! 50% Off Paragon Hard Disk Manager 17 Advanced Discount
50% Off Paragon Hard Disk Manager 17 Advanced
Paragon Hard Disk Manager 17 Advanced Overview
For more than a decade, Paragon Hard Disk Manager Advanced has served as one-stop solution to protect, maintain and manage PCs. Known for its ease of use with over 20 premium disc management tools available in the package.
It includes a powerful partition manager, migration wizard, perfect data wiping tool and disk maintenance/optimization utilities—making it easy to handle tasks like migrating old hard disks.
It comes with a full range of backup and recovery tools, so it's an ideal solution for managing system files.
The latest version of the all-in-one application has kept many features from the previous version, looks different and has a lot more options. Let's take a closer look at these new features.
1
New and Improved Features at a Glance
– Graphic User Interface (GUI) revamped
– Improved Support for Microsoft Windows 10
– Improved Support for Apple Boot Camp
– Improved Recovery Media Builder
– Improved Migration from Legacy BIOS to UEFI BIOS
– Improved Partitioning Feature with File Shrinking Technology
– Create up to 20 partitions on the same disk
– Change the size of a partition without data loss
– Convert MBR disks to GPT disks
– Resize dynamic volumes
The program has become faster thanks to additional optimizations during writing data (up to 10 times faster).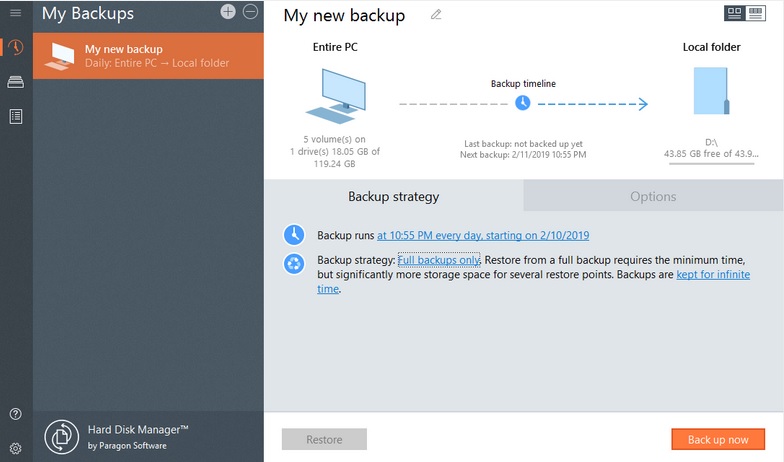 The first thing you notice about Paragon Hard Disk Manager 17 Advanced is its revamped Graphical User Interface (GUI). The previous version used a dark theme but this new one uses bright colors which makes it much easier to navigate through the software's various functions. Plus, there are no ads or popups so users can enjoy their experience without being distracted by anything else!
The main interface of Paragon Hard Disk Manager 17 Advanced has been redesigned for better usability and it now features a dark theme. The left sidebar contains all the available functions grouped into four categories: "Clone & Wipe", "Backup & Recovery", "Repair", and "System Tools".
The first category contains all the backup-related options including backup creation, synchronization and restoration as well as file recovery from backups. The second category is dedicated to system recovery with options to clone or restore an entire disk/partition or individual files/folders by using an image file (created in advance). The third category lets you fix various errors on your computer such as boot errors or problems with the Master Boot Record (MBR), partition table or volume label while the fourth category includes tools that can scan your system for malware, clean up junk files, update drivers etc.
One thing I love about this new GUI is how easy it is to use! It has clearly defined icons which makes it very easy to find the function you need quickly.
3
 Enhanced File System Compatibility
Paragon Hard Disk Manager 17 supports local and external storage devices formatted with NTFS, FAT32, exFAT, HFS+, Ext3/4, XFS and Btrfs file systems. You can continue using your external USB drives or other removable media without any restrictions even if they were created on other operating systems or by using different disk management tools.
File system conversion between FAT12, FAT16, FAT32, exFAT, NTFS 4 and ext2/3/4.
4
Improved Recovery Media Builder
There is no need to download the backup media builder and recovery media builder separately from the Paragon web site like it was in previous versions. Integrated Recovery Media Builder allows users to create recovery media for operating systems so that they can boot from them in case of a system failure or virus attack. The process is very simple and doesn't require technical knowledge at all – just select an OS from the list and click Next until you reach the last step where you can burn your recovery disc/USB flash drive with these files included on it (or create an ISO image).

March 2023 Deal! 50% Off Paragon Hard Disk Manager 17 Advanced Discount
50% Off Paragon Hard Disk Manager 17 Advanced
5
File Level Backup and Restore for Virtual Containers
This new version allows you to create file level virtual containers such as full, incremental and file complements, thus enabling you to protect your system at file level. Paragon Hard Disk Manager 17 Advanced is the only solution that allows to perform full file level backup for virtual containers. It means that if a virtual guest OS is damaged, you can restore its data from a backup of virtual hard disk without having to reinstall the operating system.
SSD stands for solid-state drive, which is a type of storage device based on flash memory instead of spinning metal or optical discs. It's fast, but it has its limitations. For example, SSDs can't be erased like a regular hard drive. You have to use special tools to wipe the data securely so that it can't be recovered later.
The software comes with two wiping methods: Secure Erase and Secure Delete. While Secure Erase wipes all data from an SSD, including free space, Secure Delete only overwrites the free space, while leaving your existing files intact. Secure Erase is recommended if you want to completely erase confidential data from your SSD drive so that it can be reused later by someone else.
7
Disk Management for Advanced User's
It doesn't matter whether you are a novice or tech-savvy guru, disk management tool has all basic features as resize, merge, split, convert partitions and some advanced as viewing/editing sectors in hex editor or searching and eleminating bad sectors.
Paragon Hard Disk Manager 17 Advanced provides a number of advanced features that make it an ideal solution for managing your drives. With this hard disk manager, you can clone a hard drive or partition to another one, including SSD and HDD. You can also manage partitions on your system and boot them from other devices such as USB flash drives or external media.
What I want to say is that Hard Disk Manager Advanced is simple to use for beginners and useful if you are an advanced user. Anyway here is a
full guide
in .pdf where you can find the answers for all basic, advanced and expert disk management questions.
The extremely powerful engine allows you to use both Basic and Advanced Partitioning features. You can use it to change the status of a partition from active/inactive and assign, remove or change drive letters. You can also give your hard disk partitions new names (Volume Labels), check file system integrity and run complete surface tests on them.
The powerful tools allow you to convert file systems without formatting and exclude or include data during the backup process.
8
Paragon Virtual Hard Drive
Paragon Hard Disk Manager 17 Advanced is an easy to use and powerful program that allows you to create virtual hard disks (VHD) and access them as if they were real drives.
Paragon Hard Disk Manager 17 Advanced supports up to 64 virtual hard disks at the same time, making it possible to back up your entire computer system in a matter of minutes.
The software also offers support for pVHD format, which allows you to create a file that can be easily shared between Windows 7/8/10 or Windows Server 2008/2012/2016 systems.
The price for Paragon Hard Disk Manager Advanced is really very competitive if we compare it with competitors and here is why. First of all 1 license which starts from $79.99 covers 3 personal computers. Secondly there is 6% volume discount for 3 licenses and 12% discount for 5 licenses and more. And finally don't forget that Hard Disk Manager combines at least two fully-functional software: Backup&Recovery and Disk Management.
Paragon Hard Disk Manager 16.5 Advanced

Paragon Hard Disk Manager 17 Advanced, 3 PC license

50% Discount
3 Devices
Volume discount

Paragon Hard Disk Manager for Mac

50% Discount
1 device
Volume discount
Conclusion
Paragon Hard Disk Manager 17 Advanced is a powerful hard disk management system that allows you to optimize your computer's performance and organize your data. It can help you with disk cloning, disk imaging, disk conversion and disk management.
This is a great product for anyone looking for an easy way to clone a hard drive or partition their existing hard drive. It has many useful features and is easy enough for beginners but also has enough advanced features for more experienced users too.

March 2023 Deal! 50% Off Paragon Hard Disk Manager 17 Advanced Discount
50% Off Paragon Hard Disk Manager 17 Advanced
PROS
Supports all types of storage media
Advanced Wiping Functionality
Backup&Recovery speed
1 license for 3 PCs
Can create backup images for easy restoration at a later date if necessary
Competitive price
CONS
No FREE cloud storage integration
Add your review
|
Read reviews and comments