Paragon Hard Disk Manager 17 Advanced Review 2021: Universal Backup Tool with Disk Management Capabilities
Do you know that your system is always open to a number of live treats? Your top anti-virus may be able to block majority of them, but can it help you from a problem that can damage your disk. Proper administration and protection of data has become an inevitable part of every successful business organization. The search for a powerful set of tools to backup and restore your valuable data is sure to lead you to the market leaders in providing backup and restore utility tools.
---
PROS:
Flexible and reliable software
Full uEFI support
Advanced disk partitioning features
Universal image mounter
GPT/uEFI compatible backup capsule
High performance and stability
Fast migration to all devices, like new HDDs, SSDs, and virtual machines
VM support
Price
CONS:
I couldn't find any

significant disadvantages

but if you are not familiar with the basic principles of backup/recovery software Paragon Hard Disk Manager Advanced may seem a little complicated for you
No FREE cloud storage integration
---

April Deal! 50% Off Paragon Hard Disk Manager 17 Advanced Discount
50% Off Paragon Hard Disk Manager 17 Advanced
Paragon Hard Disk Manager Advanced Overview
For the past many years, Paragon Hard Disk Manager Advanced has served the customers as a one-stop solution to protect, maintain and manage their PCs. It is one of the easiest to manage utility software, which features twenty plus premium disc management tools. It includes all the necessary tools, such as powerful partition manager, OS migration wizard, perfect data wiping tool, and disk maintenance and optimization tools. It can make the most painstaking tasks like migration to new hard disks, solid-state drives and virtual machines, much easy and fast. It also features a full range of disc backup and recovery tools, making it an ideal system and data management solution for every computer user.
The latest version retained all the best "features" of his predecessor, got a new look and a lot of improved options. Let us have a closer look at the new and improved features in this all-in-one application.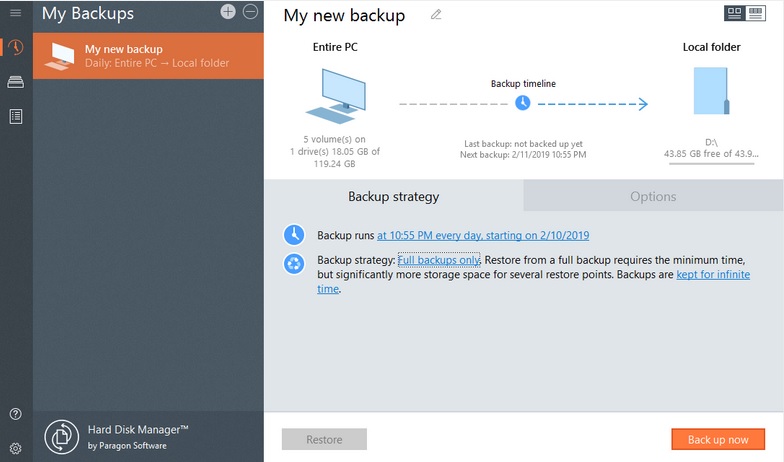 Hard Disk Manager Advanced comes with a revamped Graphical User Interface, and now it is easy to find a particular function. It features Metro-style Express Launcher, a tile-oriented interface fully streamlined with Windows 10 and a ribbon based full launcher. In addition, you can call the legacy functions that are hidden by default, through a special legacy view in the new version.
2
Improved Recovery Media Builder
There is no need to download the backup media builder and recovery medial builder separately from the Paragon web site like it was in previous versions. The integrated RMB in the Advanced version offers you a combination of the best features of those two utilities, improving its stability and usability. The new recovery media builder enables you to create either WinPE or Linux based bootable environment on an ISO image format, or on a USB flash drive, and it can be of great use, to recover your system when the OS is corrupted or damaged.

April Deal! 50% Off Paragon Hard Disk Manager 17 Advanced Discount
50% Off Paragon Hard Disk Manager 17 Advanced
3
 File Level Backup and Restore for Virtual Containers
This new version allows you to create file level virtual containers such as full, incremental and file complements, thus enabling you to protect your system at file level.
Using Paragon Hard Disk Manager Advanced, wiping SSD has become easier regardless of its size. In addition to the new user-friendly interface, wizards guide all the operations, making the entire process simple and easy. The use of asynchronous writing operations has played a vital role in improving the speed of read and write operations.
5
Disk Management for Advanced User's
It doesn't matter whether you are a novice or tech-savvy guru, disk management tool has all basic features as resize, merge, split, convert partitions and some advanced as viewing/editing sectors in hex editor or searching and eleminating bad sectors.
What I want to say is that Hard Disk Manager Advanced is simple to use for beginners and useful if you are an advanced user. Anyway here is a
full guide
in .pdf where you can find the answers for all basic, advanced and expert disk management questions.
The extremely strong engine for all partitioning tasks, including both Basic and Advanced Partitioning features helps you to create, delete, format, undelete, hide, or unhide partitions. You can select partition to be active/inactive and set, change or remove drive letter. You are free to change hard disk partition label (Volume Label), check file system integrity and run complete surface test. The powerful tools allow you to convert file systems without formatting. You can also include as well exclude data from the backup, during the backup process.
6
Paragon Virtual Hard Drive
The pVHD (Paragon Virtual Hard Drive) format for data storage optimization is a unique feature introduced by PGS, which allows the users to backup their data in two formats – either as PBF files or in the new pVHD format.
The price for Paragon Hard Disk Manager Advanced is really very competitive if we compare it with competitors and here is why. First of all 1 license which starts from $79.99 covers 3 personal computers. Secondly there is 6% volume discount for 3 licenses and 12% discount for 5 licenses and more. And finally don't forget that Hard Disk Manager combines at least two fully-functional software: Backup&Recovery and Disk Management.
Paragon Hard Disk Manager 16.5 Advanced

Paragon Hard Disk Manager 17 Advanced, 3 PC license

50% Discount
3 Devices
Volume discount

Paragon Hard Disk Manager for Mac

50% Discount
1 device
Volume discount
Conclusion
The Paragon Hard Disk Manager Advanced is all-in-one HDD backup suite that will completely protect, maintain, and manage your PC. The high performance, latest backup techniques and fast backup makes it worth a try product from Paragon.

April Deal! 50% Off Paragon Hard Disk Manager 17 Advanced Discount
50% Off Paragon Hard Disk Manager 17 Advanced