 Acronis Backup for Linux Server 12 with NovaStor Datacenter
Posted by
Paul Wilson
on 24.10.2016
5% Off Acronis Backup for Linux Server 11.7 + FREE Upgrade to ver. 12 Coupon


$999 $949.05


No code required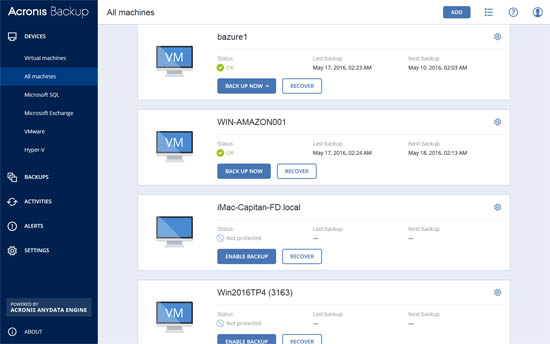 The new VMware features of latest NovaStor Datacenter is not the only new feature included in the package, other features such as multi-streaming and an increase in the management level of redundant meta data , has also made the new system to be more appealing. In 2016, the new NovaStor Datacenter was nominated as one of the most promising backup solutions especially for business owners, and IT Data center operators. Backup and Restore seem to be the main focus of NovaStor.
| | | |
| --- | --- | --- |
| Features | NovaStor Datacenter | Acronis Backup for Linux 12 |
| Meta data management | Comes with multi-streaming and monitoring of redundant data | Does not come with multi-streaming and stores and backup all data, without checking for redundant meta data |
| Type of backup solution | Comes with a single Server backup solution | Backup solution split into different units for server, Business Essential and NAS |
| Cloud backup | Though it offers physical and virtual machine backups, but doesn't offer Cloud backup | Comes with both online and Cloud backup storage |
| License | Comes with a flexible single license and single installation in one package. The all-inclusive licensing simplifies the migration from one service to another. It works for Windows and Mac | Comes with renewable license . This package only works for Linux, thus it is strictly restricted to Linux systems |
| Security | Comes with Internet security | Comes with both Internet and cloud security |
This system offers the best single server backup and restores solutions for NAS, Business Essentials and Server. NovaStor Datacenter also offers the following:

- Offers advanced data protection plus disaster recovery for all single windows servers.
- It comes with Business Essentials package that provide complete server protection for all physical and virtual machines (these are VMware and Hyper-V). It does this with the aid of SQL and Exchange.
- Comes with a single license and single installation.
- Multiple server environments can be handled with an all-in-one backup solution inside the Nova backup NAS. Therefore this system will support any heterogeneous environment, therefore the systems can be managed and at any time and from anywhere.
- The architecture of NovaStor Datacenter is responsible for its high scalability and performance.
When it comes to choosing between the NovaStor Datacenter and Acronis backup for Linux 12, the size of the organization and what the package is intended for, must be considered. While larger Linux-reliant organizations may opt for Linux 12 because it is customized for Linux, smaller and medium size organizations can rely on NovaStor Datacenter because it works for the two giants- Microsoft and Mac. Secondly the cost of running a Acronis backup for Linux 12 can be economical at the long run especially when you plan to expand your business enterprises.