 The Best 5 Identity Protection Software 2017 Comparison Chart
Posted by
Paul Wilson
on 15.11.2016
Identity theft is a hot issue nowadays because it is the real risk in your life. Identity theft involves your personal information related to credit cards, bank details and other information required to drain your finances. Identity theft can ruin your reputation, destroy credit and cost dollars to resolve. If you want to protect yourself from identity theft, you can use identity protection software. These software can protect your personal information, such as bank accounts, credit card details, and email IDs. There is a comparison table with their highlighted points. This table will help you to take a right decision.
| | | | | | |
| --- | --- | --- | --- | --- | --- |
| Name of Protection | Norton Identity Protection | LifeLock Ultimate Plus | IdentityForce | ID Watchdog | TrustedID |
| Fraud Monitoring | Yes | Yes | Yes | Yes | Yes |
| Fraud Alerts | Yes | Yes | Yes | Yes | Yes |
| Credit Reports | Yes | Yes | Yes | Yes | Yes |
| Credit Scores | Yes | Yes | Yes | Yes | Yes |
| 24/7 Support | Yes | Yes | Yes | Yes | No |
| Family Coverage | Yes | Yes | Yes | Yes | Yes |
Identity protection software monitors your data, and these are designed to block the new criminal strategies. These security tools are useful to protect your sensitive details from ransomware, viruses, or malware.
1) Norton Identity Protection


Norton is known as a leader in the digital security by Symantec to manage your passwords. You can protect your data on mobiles and laptops. The security consists of mobile apps and web-based vault for iOS and Android. Check upto
50% Off Norton by Symantec Coupon Codes
.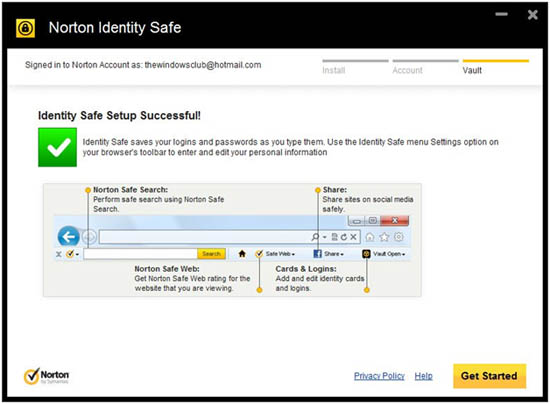 Features of Norton Identity Protection

- You will get important features and updates of Norton identity theft protection automatically.
- The threat-removal layer eliminates and targets hard-to-remove threats.
- After installing Norton identity protection, you can enter your personal details confidently.
- Cloud-based controls will help you to renew your security on the internet with a few clicks.
- PEP (proactive exploit protection) protects your devices from attacks, vulnerabilities, and unpatched holes.
- Defense layer protects your from online threats.
- You can schedule intensive tasks in the presence of Norton identity theft.

Pros

It can replay and capture the login credentials. Organize your logins with the help of tags and offer online access to your secured data. Fills webs forms safely with your personal data and flag all fraudulent and malicious sites.

Cons

Password generator instead of integrated. The user will not get any actionable security report. Mac support is not available.

Bottom Line

The Norton Identity Protection is good for your sensitive data, but it has not changed much over a few years. Its competitors have the most advanced technology, but they have missed some important updates. It is a good security as a free password manager.

2) LifeLock Ultimate Plus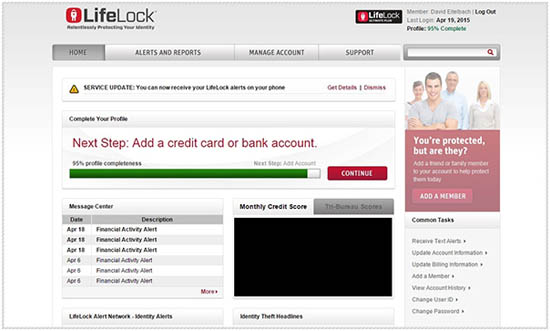 LifeLock is available with a LegalShield to protect your identity and monitor credit score. It features a comprehensive credit summary for three credit bureaus that display the actual number of accounts with every agency, total balance, monthly payments, derogatory and unsatisfactory accounts and inquiries in the final two years.

Features of LifeLock

- This software is useful to monitor your credit card and bank account. It offers an excellent history of your financial transactions.
- It provides elementary login security, and this site requires your email ID and password. You have to answer some security questions at the time of login.
- You will get email alerts and SMS from LifeLock as it detects withdrawal or purchase greater than $100.

Pros

- 24-hour Support for credit and bank account monitoring
- Provides public record and credit reports information
- Monitor websites to see your personal details
- Recovery support, mobile apps and mobile alerts

Cons

- There is no family plan and you have to pay large bills for multiple-person websites
- Lengthy setup procedure

Bottom Line

It offers excellent protection service with SMS and email alerts and monthly reports. Monitoring your personal information and financial activity is good. This security can be expensive and increase your bills as you get many protections.

3) IdentityForce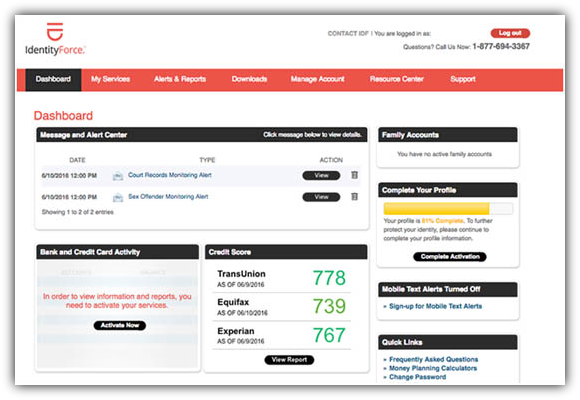 IdentityForce monitors online chat rooms, websites, and public reports to avoid illegal traffic on your site. This unique service utilizes advanced ID analytics engine to search for your potentially stolen data. It can notify any fraud within a few seconds and send fraud alerts to your credit card organization. If you have lost your wallet, this service proves helpful to cancel your credit cards and replace your lost IDs.

Features of IdentityForce

- You will get two adult plans by IdentityForce along with 14-day free trail.
- It has the ability to search millions of public, court and criminal records to ensure that your identity is not used by criminals.
- This software also uses sex reprobate registries to oversee the illegal use of your identity. If it finds any misuse of your information by a sex offender, it will notify you about it.
- With the help of its new "Delete Now" feature, you can delete any unwanted public information.

Pros

- It uses ID analytics engine to look for potentially stolen personal online details
- Send Notifications about the wrong use of your personal information
- Enable you to delete your public information
- ChildWatch feature is available for the protection of your children

Cons

Live 24/7 chat is not available

Bottom Line

IdentityForce has a great experience of working with commercial, governmental and citizens agencies. It can provide excellent services with ChildWatch features. You may not get 24/7 chat facility, and it is their only drawback.

4) ID Watchdog
Your data is vulnerable to theft because there are lots of threats in the online world. The ID Watchdog will give you excellent protection and tools to stop your identity theft and fix it quickly without any significant loss. Most of the victims often discover this problem after losing their job, denying their credit or receive a long bill. You can avoid all these problems by installing watchdog on your system.

Features of Watchdog

- Watchdog offers proactive monitoring of non-traditional and traditional credit.
- Monitoring of Internet black-market and high-risk transactions.
- Settlement of insurance for almost $1 million in the ID theft-related expenses.
- Entirely managed resolution services that will not fail to report any identity.

Pros

- This software will help you to restore your identity even without using ID monitoring services
- You will get immediate notifications of suspicious transactions

Cons

- This software will not remove you from the mail lists for different offers and credit cards

Bottom Line

This service is perfect for the protection of your financial information. It will help you to resolve your ID theft problems. Unfortunately, the credit reports are available for Platinum members only.

5) TrustedID

This software protects its subscribers from ID theft with the help of database and credit card monitoring service. You can get the advantage of a family plan that covers all your members for a fixed price.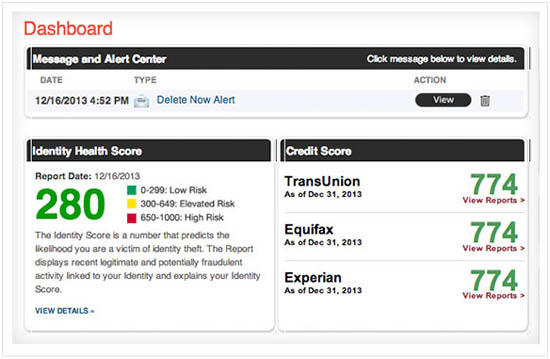 Features of Trusted ID

- It offers protection again any theft and protects your debit and credit cards, bank accounts, social security number, public records and loan monitoring.
- It is good to protect your lost wallet because it proves helpful to contact your credit card companies and banks.
- They provide $1 million as a guarantee and provide this amount in remediation services.
- You can immediately freeze any suspected and false credit report.
- It is suitable for the protection of your family because you can get a plan for adult members and children of your family.

Pros

- Get credit score update through a trusted ID
- You can contact your trusted ID over phone, live chat, email or social media

Cons

- You will not get mobile support or app because the functionality of mobile apps is not good

Final Verdict

It is a service of confidence to protect your valuable information and identity. It will protect you from numerous problems, but they lack in the area of mobile apps. You can't use a properly functional app on your mobile


50% Off Malwarebytes Antimalware + Anti-Exploit Bundle Promo
Malwarebytes Coupon Codes upto 50% Discounts
$79.90 $39.95


No code required