 Acronis Backup for Windows Server 12 Review and Comparison with Paragon
Posted by
Paul Wilson
on 27.05.2014
Critical business needs critical IT solutions to function smoothly as recovering the server can make your business vulnerable. You need a no-stop backup solution that is flexible and reliable to protect your windows server from almost all types of system failures. The search for such software will lead you to Acronis Backup for Windows Sever 11.5, the leader of disk imaging software.

Comparison with Paragon Backup & Recovery

When compared with most of its rivals, the Acronis Backup for Windows Server 11.5 provides you all the powerful tools and features to complement the present hardware and software needs. The dashing speed and performance of the software makes it one of the best choices for local backup needs. Both Paragon and Acronis allows the user to backup on network locations, local disks, FTP, and SFT servers. However, Acronis gives an additional advantage for its users by allowing them to use its own proprietary online backup service. You need to download the user manual and follow it to make the creation of destination and use of cloud storage easy, as the complicated interface makes the process more tedious.

The Backup Capsule feature of Paragon poses much risk to the user than the Acronis Secure Zone, as a small misunderstanding can cause severe issues to the users. Paragon is the closest rival to Acronis, but the former failed to outstand many of the powerful features offered by Acronis. Acronis has included all the features, but lack simple and coherent interface. However, these has not yet limited the number of Acronis users, as they are ready to go through the complicated menus to protect their crucial data, for 100-percent worry-free backup.

Pros

- Fast
- Super powerful
- Full disk imaging
- Corporate-level power and versatility
- Bare Metal recovery
- Maximum Support Exchange and SQL
- Cloud Support
- A number of backup schemes and versioning controls
- Full Image Backup and disaster recovery solution
- Proprietary online backup storage

Cons

- Confusing and complicated interface
- Complex Menus
- Restoration process consumes much time
- Acronis Active Restore does not support windows 8 and later versions

Screen Shots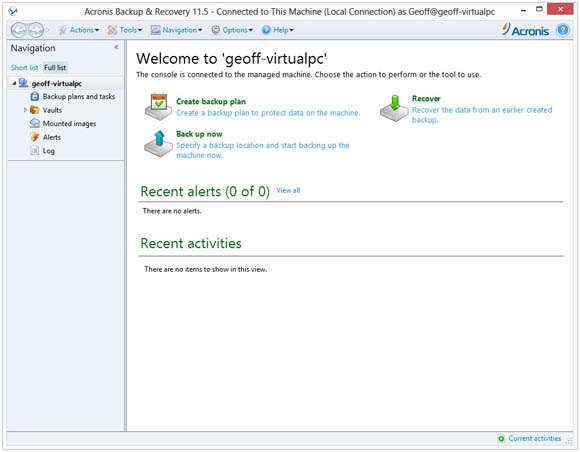 The dashboard that appears on launch of the software gives you three main options - Create Backup Plan, Recover, and Backup Now.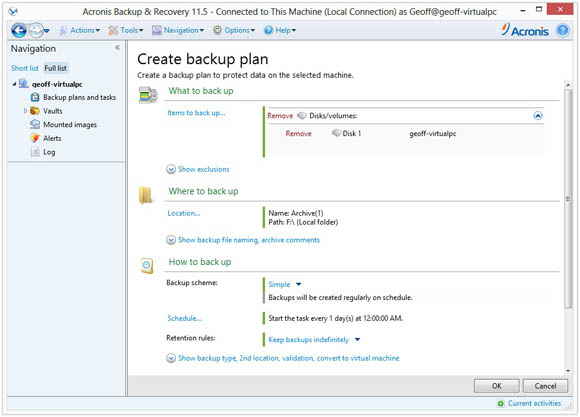 Create backup plan launches a screen to help you choose what, where, and the interval of backup.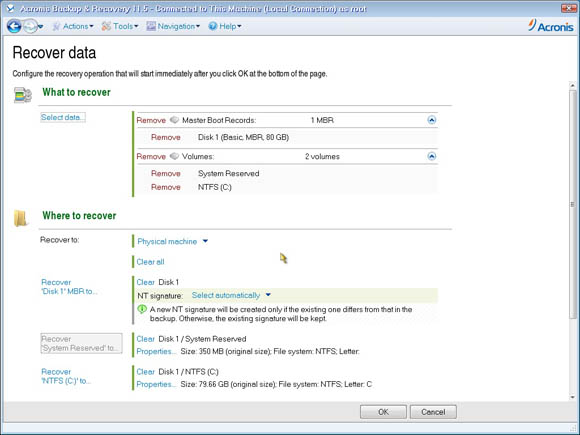 Recover Data: Even though, it automatically selects the destination, the users have the freedom to change any of the settings, anytime.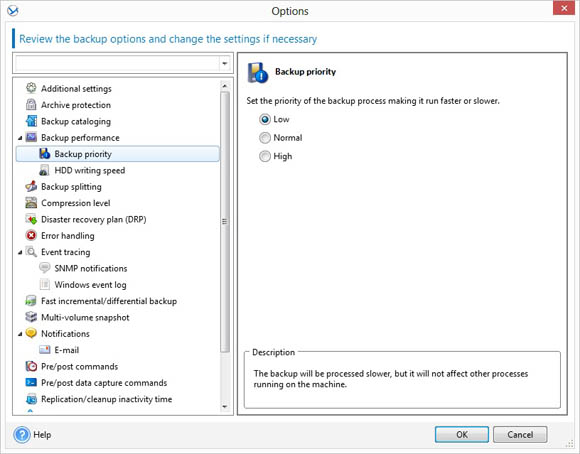 Advanced Backup Options lets you customize almost everything, like splitting Email notifications, Backup performance, Compression/encryption Backup, and much more.
Key features of Acronis Backup for Windows Sever 11.5

Acronis Backup for Windows Sever 11.5 is a powerful and comprehensive PC backup and recovery solutions for Windows. It includes all the components needed by a small enterprise to protect their data as it serves as a unified backup and recovery platform. In addition to the flexible application support, it also allows the user to save their data in the cloud environment. All the backup and recovery process are simple and easy to manage. Even though, the installation process is easy and does not require rebooting, the addition of extra components makes the process bit lengthy.

The disk-to-disk-to-cloud backup is automated for both VMs and physical machines to make the process simple for a person with less IT skills to manage the software. Moreover, it can also support a number of platforms - Microsoft Exchange Server, Microsoft SharePoint Server, Microsoft SQL Server, Citrix, Microsoft Active Directory Server, Microsoft Hyper-V, Microsoft Small Business Server, and much more. The sophisticated technology used by the Acronis team has made it possible for the software to backup almost all types of media files and portable storage.

In addition to the AES encryption to ensure security of data, Acronis uses Microsoft Volume Shadow Copy Service to produce a point-in-time snapshot of disk volumes that offers maximum protection for locked and open files. It can backup individual files, whilst the image of the entire disc to anywhere you prefer. Acronis Secure Zone option, gives the ability to create a special disk partition and use it for backups.

The interface is clean, but not so easy to navigate. It consumes much time to create the backup destination and select the partitions or folders that need to be backed up, as the menus are less informative.

Regardless of the hardware specifications and platform, Acronis allows the user to recover failed serves or workstations, with much ease. Bare metal recovery and recovery of individual files or folders from image backup can be easily performed using the powerful Acronis recovery engine. In addition to the weekly or monthly backup scheduler, Acronis also allows you to schedule incremental, full image backup at customized intervals. It gives you full freedom to manage the alerts, control the usage of software bandwidth, and automates deletion.

As soon as you launch the software, it will display recent activities, alerts and the status of the machine. It also includes the option to Create Backup, Recover, and Backup Now. The Backup Now option allows the user to select specific files or folder to start backing up immediately. The backup scheduler is so advanced that you can give the settings and forget about the backup process, as the workflow will be smooth.

The Central Management feature is a perfect tool for small businesses to manage multiple workstations and/or servers. However, this feature is available only in the Advanced Editions of Acronis. The Acronis Active Restore allows the users to bring a system online instantly after a recovery operation is in progress. However, the users of windows 8 or later versions cannot take advantage of this powerful tool, as it does not support them.

At a glance

- Straightforward installation process
- Deduplication
- Back up support for nearly all media and portable storage
- Optimized for hybrid cloud environments
- 256- Bit AES encryption
- Automated deletion
- Support for Microsoft Hyper-V, Physical, SQL Server, VMware, Exchange Server, Citrix and much more
- Microsoft Volume Shadow Copy Service
- Acronis Secure Zone

Verdict: Acronis Backup for Windows Server 11.5 gives you a number of ways to backup and restore nearly any file format giving full freedom and peace of mind to the users. However, you need to invest some time to navigate through its complex menus and options to reach the goal.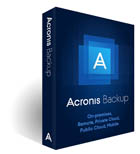 67% Off Acronis Backup for Windows Server 12.5 Coupon

Check more
Acronis Coupon Codes

$1049 $349


No code required