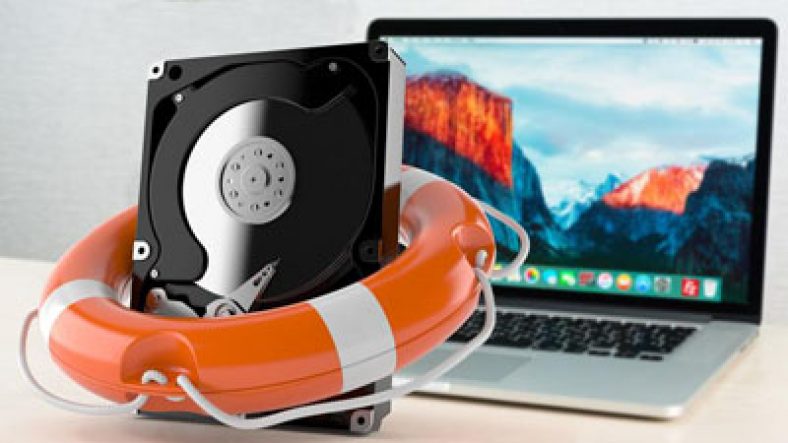 Acronis Revive vs Easeus Data Recovery Wizard Pro Comparison: Check Which One Is The Best in 2020
Although modern-day backup solutions are mostly on the cloud, you might prefer the good old way of taking backup of your data on a local drive or an external hard disc or on a USB device. But data loss can still be a matter of concern, and you might just end up accidentally deleting your data. Acronis Revive is a cost-effective and powerful data recovery and undelete software program can come to your rescue in such situations.
Features Comparison Table
Image creation during file recovery

Scan visualization during data scanning
EaseUS Data Recovery Professional

 Acronis Revive: A Brief Introduction
Acronis, the software vendor that previously rolled out True Image, has now come up with the latest version of their data scanning and recovery solution – the Acronis Revive 2017. Read on to find more about the sophisticated data recovery application that is arguably the best solution for file recovery from NTFS, FAT12/16/32, ReFS/ReFS2 (Windows 2012/2016 Server), as well as NTFS5.
Get 50% Off Acronis Revive 2019
 EaseUS Data Recovery Wizard Professional and Acronis Revive A Brief Comparison
EaseUS is a leading software vendor that started out in 2004, offers enterprise-grade data recovery software programs, data backup programs, eg. Easeus Todo Backup, PC utility and partition manager software applications. The EaseUS Data Recovery Wizard Professional could be your best solution for recovering your lost videos, photos, documents, music files, archives and emails from all your Mac hard drives, even after deleting the files from your trash can. The software program also provides complete support for recovering data from digital cameras, iPod, MP3 and MP4 players, USBs and memory cards.
Like all othet data backup and recovery software programs this one also comes with its own set of pros&cons. For example, the quick scan doesn't produce any conclusive evidence of data loss. However, you can switch to the Pro edition to enjoy some advantageous features which are listed here below.
 EaseUS Data Recovery Wizard Professional Features
Supports non-512 bytes disks
A new interface that makes data recovery easier
Skips bad sectors and scan lost files quite faster
Recovers lost files even if the files are deleted from the trash
Recovers files after accidental formatting
Recovers hard disk after a crash
Recovers files following partition errors
Recovers data from hard drives that have not been formatted
Bilingual support
Lets users specify file types for faster recovery of files
Get 50% Off Easeus Data Recovery Professional
A function-oriented interface with wide compatibility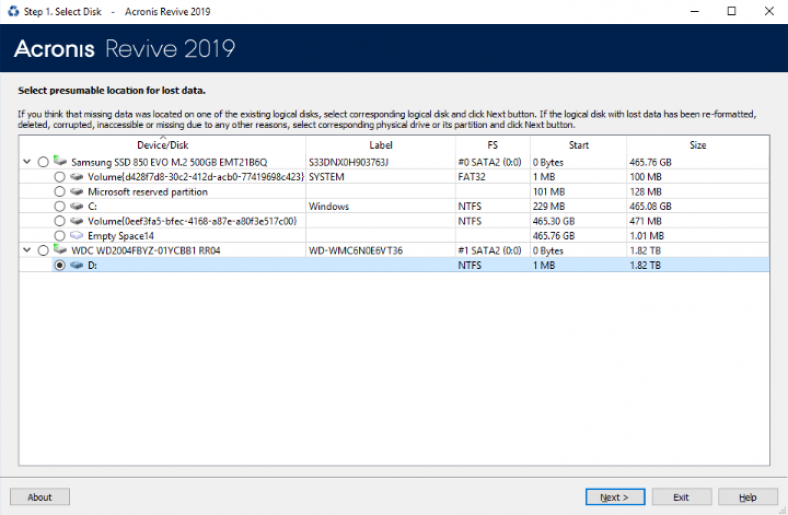 To start with the data backup software has a Wizard oriented interface. Therefore, the user has the liberty to choose the tasks they want to accomplish, and then they are guided through the process. The software is compatible with Windows XP, Windows 2003, Windows Vista, Windows 7, Window 8/8.1 as well as Windows 10. It also supports a wide variety of file systems, including FAT12, FAT32, NTFS and NTF5. Not only that, the latest version of Acronis Revive auto-searches for files that have typical known features. This allows the users the search for files on their devices with unidentified file systems. You can download a complete Acronis Review user guide from the official website here.
In-depth scan visualization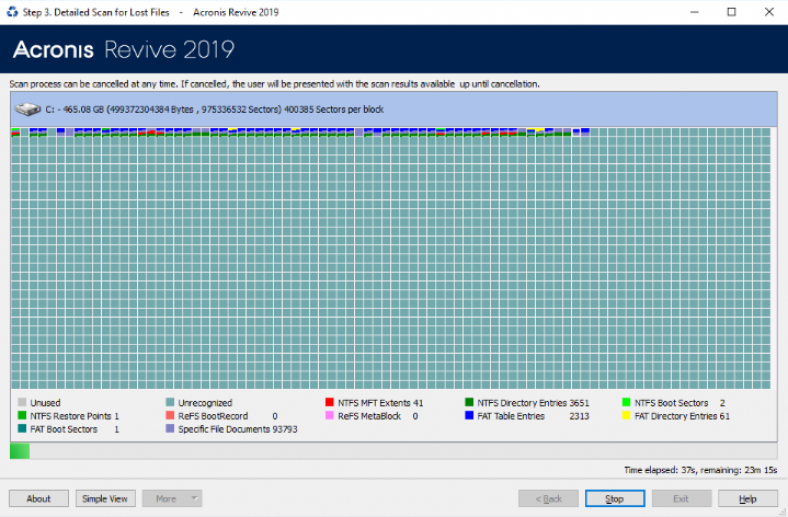 However, the feature that really makes the software program stand out is the detailed scan visualization which gives the users better control on their files. While searching for a file, the data recovery software application shows the items already found graphically and this includes the files of known types too (for example, boot records, NTFS MFT records, and FAT records). The dynamic disk support is one more outstanding feature that comes with the software program. The application creates image files for both hard drives and logical disks. These image files can easily be processed like regular disks.
Recovers nearly everything
The latest version of Acronis Revive is also capable of scanning objects while simultaneously creating their images. It recovers compressed and encrypted files seamlessly and also recovers NTFS and NTFS5 that are commonly dubbed as alternative data streams. And if you want complete support for NTFS deduplication, the application will come handy too.
Easy file previewing and saving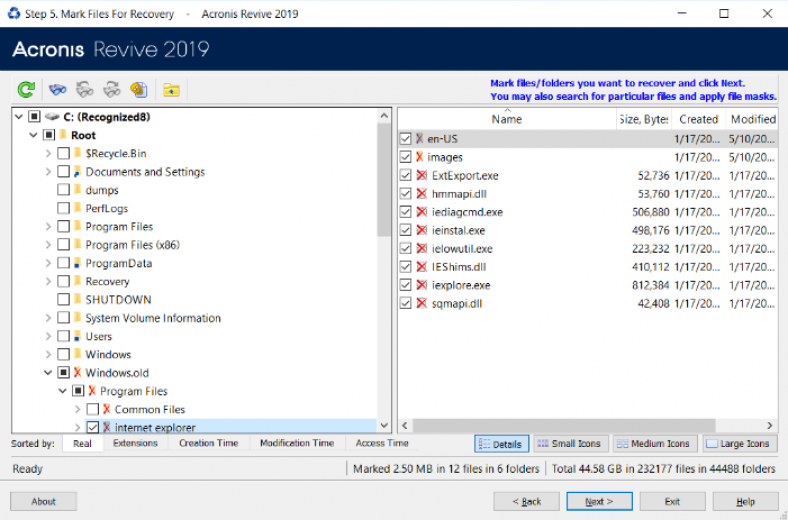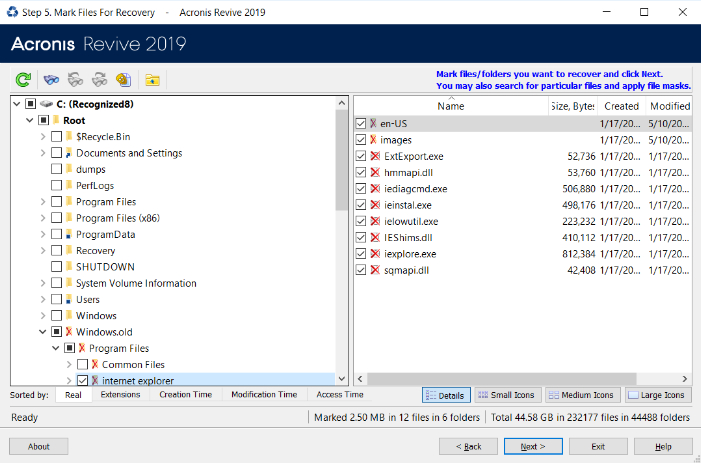 You can easily recover files on any disk visible by the host OS and this includes network disks too. Also, with Acronis Revive 2017, you can easily preview the files through the hexadecimal file and disk viewer. The software provides complete support for S.M.A.R.T. attributed monitoring or Self-monitoring, analysis & recovering technology. You can even install it on a removable device and search for lost files in your system disk.
Different scan modes you can choose from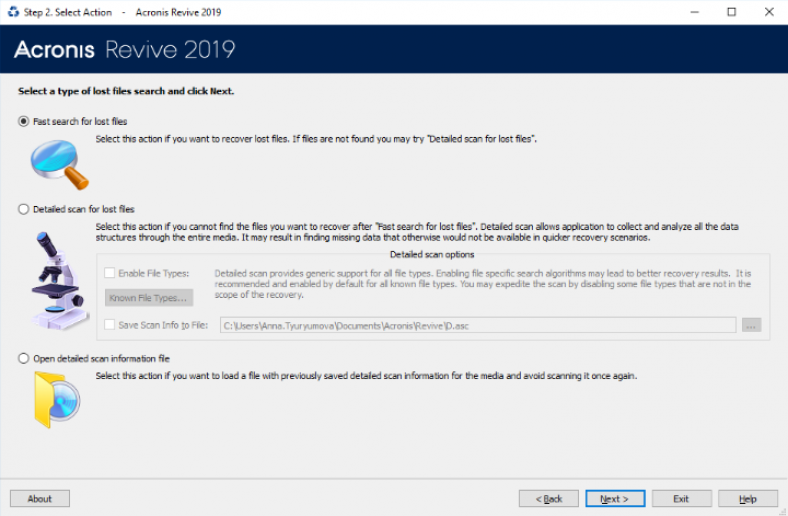 Acronis Revive lets you choose from a broad variety of scan modes. Please bear in mind that each of these scan modes come with their own pros and cons. If you choose the fast scan mode, it will scan your files really fast, but this is not the best scan mode for diving deep into the system files. Similarly, if you go for a detailed scan, all your data structures will be analysed and scrutinized and you can also use file-specific search parameters to super-customize your results, but it will take its own sweet time. You can also configure the software program to open a file that contains previously saved information about a scan. Therefore, you don't need to re-run a deep search, which is time-consuming.
Apply file masks for locating files easily
The recoverable files list is destroyed in tree view and files that you cannot recover are marked appropriately. What the application can do is sort the available data in a number of variations, by file creation, extension, modification as well as last access time. Therefore, as a user, you can easily search for files using specific criteria. After that, you can elect the data that you want to recover and choose from the advanced file and data recovery options. Acronis also extracts data from hard disks that have corrupted or bad sectors.