Is AnyViewer The Easiest Way to Remotely Control Multiple Computers Simultaneously?
Recently we've got a question from one of our readers regarding the possibilities to control several PCs remotely and what tool is the best match. Here is the question.
I am an IT technician of a company and I need to monitor and provision all devices in my company. Also, I am in charge of any computer problems that my colleagues have encountered. I want to know if there's a way for me to remotely control multiple computers simultaneously so I can just view and access all the devices and provide remote support at the same time instead of one by one in order to save my time. Any suggestions would be appreciated.

We may need to remotely control multiple computers simultaneously for many reasons. No matter for business purposes or personal purposes, we all want an easy and convenient way to achieve multiple remote control. The trick we use here is to remote into multiple computers from one computer at the same time via remote desktop software, for example, AnyViewer.
 Brief introduction of the free remote desktop software AnyViewer
AnyViewer is an easy remote desktop tool that provides users with a free yet professional remote-control service. It has the following outstanding advantages:
Professional. It is the professional remote desktop software for Windows computers. It compatible with all versions of Windows 7 to 11 and Windows Server 2012 R2 to 2022.
iOS version. iOS version gives you a full access to control PCs remotely from your iPhone or iPad.
Unattended remote connection. Once the devices have logged in to the same account, they can achieve unattended remote connections unconditionally.
Secure. It takes security very seriously. Secured by Elliptic Curve Cryptography (ECC) encryption, your data has been safely guarded.
Fast & stable. It is developed by a strong technical team, providing you with a stable and fast remote connection, even you are remotely control multiple PCs simultaneously.
Efficient. The UI is user friendly with some helpful quick operations like: Restart, Shut Down, Task Manager and Command Prompt.
Free. The free version is a fully functional remote access tool.
 How to remote desktop into multiple computers via AnyViewer
After learning enough about AnyViewer, let's see how to remotely access multiple computers simultaneously via AnyViewer, specifically, how to remotely access multiple unattended computers simultaneously. Follow the steps below to get started.
 Option 1. Remotely access multiple unattended computers
Step 1
To start with AnyViewer you must launch the tool on both computers after downloading and installing.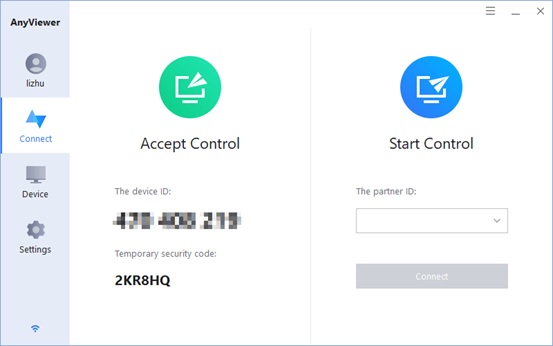 Step 2
Go to Log in, and then click Sign up. (If you already have signed up on its official website, you can log in directly.)

Step 3
Fill in the sign up information.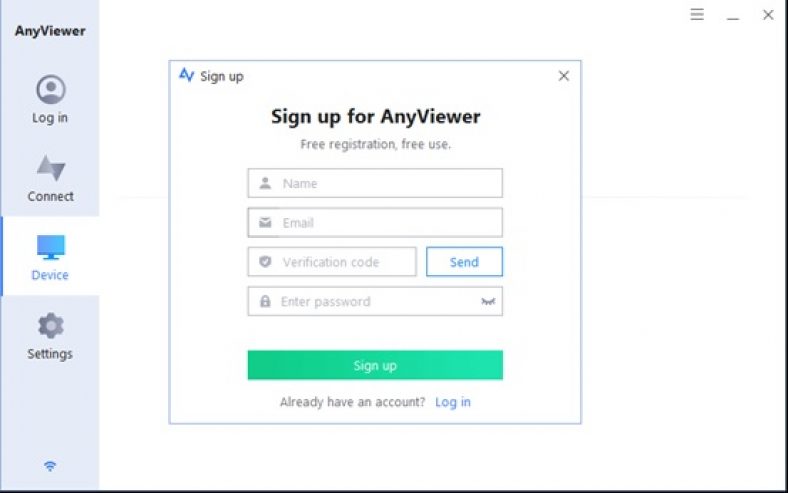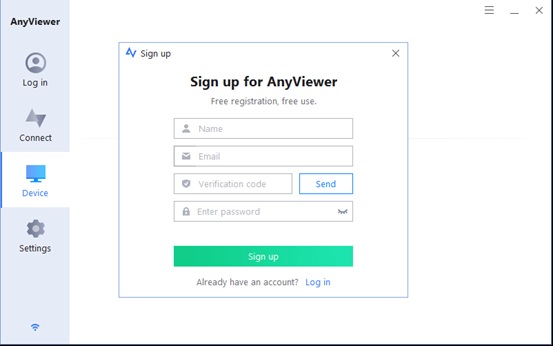 Step 4
After entering AnyViewer account you will see the number of assigned and managed devices on the screen.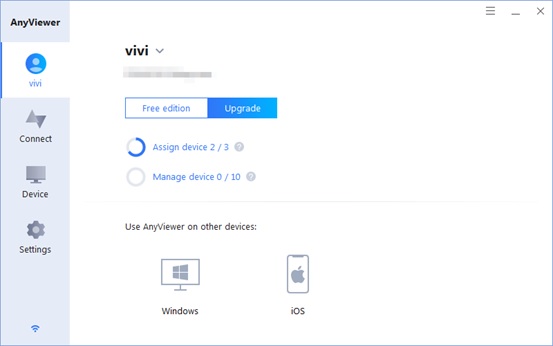 Step 5
To get a remote control and get unattended remote access on other devices you must login in using the same AnyViewer account.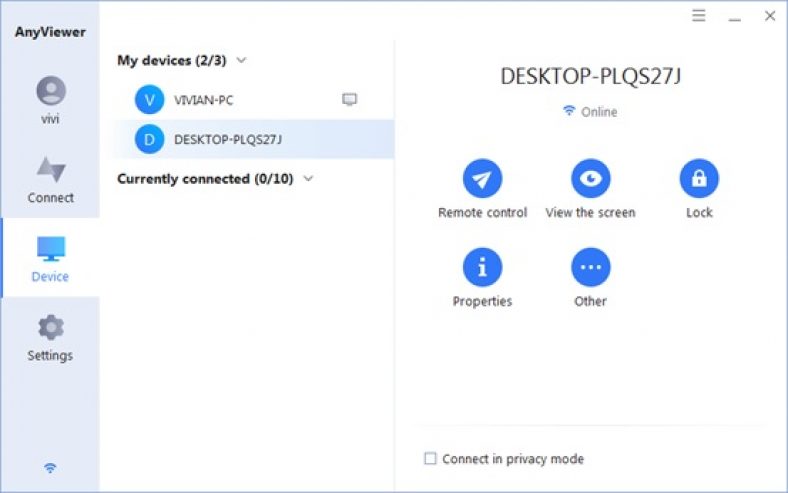 Step 6
Choose another device and then click Remote control again to achieve unattended remote access to more computers.

 Option 2. Remotely access multiple attended computers
If you don't want to log in to the same account on the devices you're trying to control for safety concerns, you can also a send control request to them once they are attended devices.
Step 1
Start with the download, install and launch AnyViewer on both computers.

Step 2
Enter the device ID on the client PC and click "Connect" button.

Step 3
In the pop-up window, choose Send a control request to your partner and then click OK.

Step 4
To start a connection, click "Allow" button on the host PC.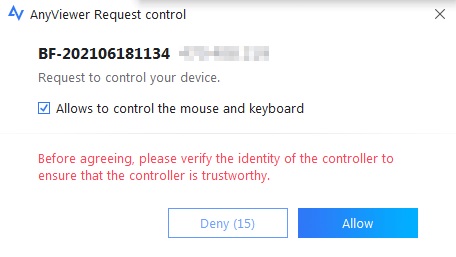 Step 5
Repeat the steps above to achieve remote control to more attended computers.

Once you've successfully connected to the remote computers, you'll see a task bar on the top of the screen.
Click Resolution, here you can change the resolutions freely.
Click Image quality, here you can change to High image quality or Low image quality according to your network speed. You can also choose Hide the desktop wallpaper to make the connection run smoother.
Click Operation, here you can take quick operations to the remote computers if you're trying to provide remote support to others. For example, you can you open Task manager directly.
Click Message, a chat box will pop up. You can communicate with people sitting in front of the remote computer.
Note: Free edition of AnyViewer allows you to remotely control two computers simultaneously. If you want to control more computers simultaneously, you can upgrade your account to a Professional or Enterprise plan.

If you're a Professional or Enterprise edition user, you can also choose to Connect in privacy mode, which means you can black the screen and block the mouse and keyboard of the remote computers. If you want to control your own remote computers and don't want anyone around the computers to see what you're doing right now, this feature would do you great help to protect your privacy.
This tutorial mainly introduces how to remotely control multiple computers simultaneously with the free and easy remote desktop software AnyViewer. As long as you've logged in to the same account to the remote devices you want to control, you can easily achieve unattended remote access with just a few steps. No more tedious steps are needed. Even computer novices can quickly get started with it.
To meet all different kinds of needs, AnyViewer also provides users with advanced plans, Professional and Enterprise. If you need to remotely control a large number of computers at the same time, you can upgrade your account to meet your needs better. The privacy mode that comes with the advanced plans is worth trying as well.