 Cyberlink Media Suite 12 Ultimate vs Ultra Comparison
CyberLink Media Suite 12 is a comprehensive multimedia suite, which bundles together a great collection of CyberLink's extensive product range for playback, editing, and convent creation tools. Whatever multimedia task you have, CyberLink software provides easy access to media tools to perform all the tasks in your PC and mobile phones, easily and quickly. It includes all the latest tools in multimedia creation and playback technology for disc burning, media conversion and organization. In addition to the collection of powerful tools for disc burning, media conversion and organization, the Cyberlink Media Suite 12 includes PowerDVD, PowerDirector, PhotoDirector - the 3 latest multi award-winning video, photo editing and playback applications.

The CyberLink Media Suite 12 consists of almost all the powerful utilities to satisfy the diverse needs of today's digital home. In addition to the latest version of PowerDVD, PowerDirector, PhotoDirector, a dozen of CyberLink's best-selling multimedia software are included in this package, making it an all-in-one solution for home and school media tasks.

The unique PowerStarter launcher makes it easy for the users to use this wonderful tool and is well- organized to guide the users to reach the exact multimedia applications required to perform the task they want. CyberLink Media Suite 12 has everything or everyone. For sophisticated users they provide more advanced photo editing tools and premium video template packs. The availability of three fantastic mobile apps extends the ability and enables the users to create and play anywhere.

CyberLink Media Suite 12 comes in two versions: - Media Suite 12 Ultimate and Media Suite 12 Ultra. The ultimate is a 15-in-1 Complete Multimedia Suite for both PC & Mobile, whereas Ultra is 12-in-1 Best Value Multimedia Suite for PC. The media suite 12 can enhance the way you experience digital media.

Screen Shots
Posted by
Paul Wilson
on 03.09.2014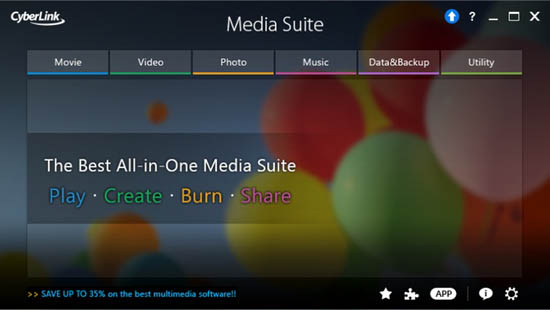 Cyberlink Media Suite 12 Ultimate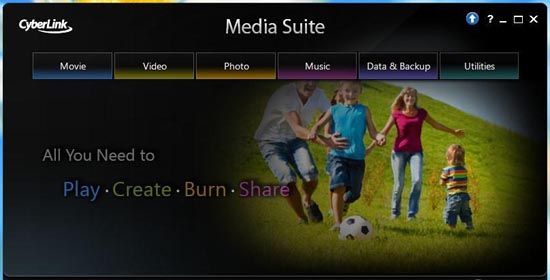 CyberLink Media Suite 12 Ultra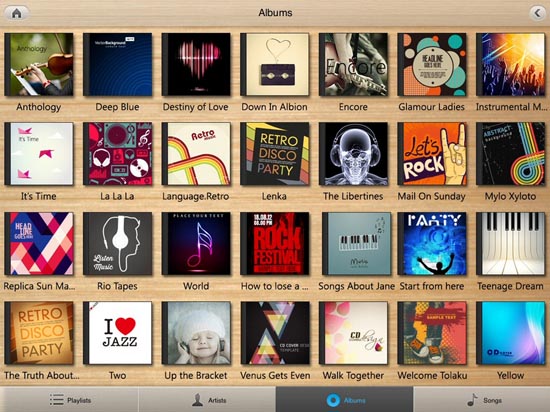 Albums
Director Zone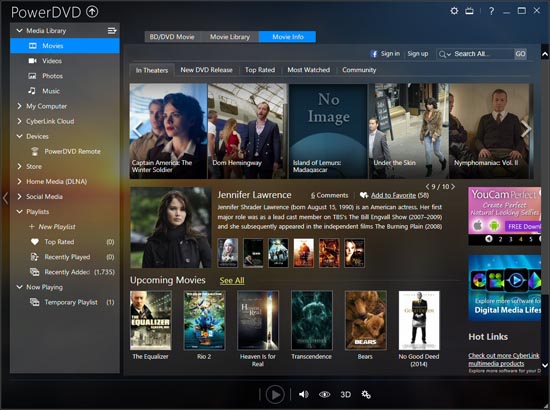 PowerDVD
Media Suite 12 Ultra Review

It is the base edition of Cyberlink Media Suite 12 and features three award winning PowerDVD, PowerDirector, PhotoDirector. Other than Label Print 2.5, WaveEditor 2, PowerDVD Copy 1.5, PowerBackup 2.6, and Instant Burn 5.0, it includes a handful of features:

- PowerDVD 14 to handle media playback
- PowerProducer 6 and Power2Go 9 for disc authoring and burning
- MediaEspresso 7 can handle all your media conversion needs
- PowerDirector 12 and PhotoDirector 5 to enhance video and photo editing
- MediaShow 6 helps to keep your files organized

Media Suite 12 Ultimate Review

It offers a complete set of software to play, burn, create, convert, and share your media files. It includes all the features of Media suite 12 ultra plus three powerful mobile apps, which makes the media suite 12 ultimate the best in the industry. In addition to the trio of mobile apps, it includes three content packs (Holiday, Travel, and Romance) that make it different from the Ultra.
The PowerDirector Mobile and PhotoDirector Mobile handle the video and photo editing in Android and Windows 8 devices. Android, iOS and Windows 8 mobiles can use the Power Media Player to let you enjoy unparalleled media quality wherever you go.

What's New in Media Suite 12?

UltraHD 4K & Play H.265 Video: Media Suite 12 is the only one to provide end-to-end UltraHD 4K solution. You can create as well as play UltraHD 4K videos. You can enjoy stunning H.265 playback.
Apps for Android, iOS & Windows 8: Power Media Player makes it easy for you to have fun even when you moving from one place to another. No matter where you are, you can enjoy music, videos, or view photos in your mobile, as the Cyberlink has incorporated their award winning features of PowerDVD to Android, Apple & Windows 8 mobile devices. The PowerDirector Mobile and PhotoDirector Mobile built exclusively for your android, apple and windows mobile phone lets you edit photos & videos on the go.

Three exclusive bonus content packs: Give a unique touch to your PowerDirector projects by creating special effects using PiP objects. Holiday Pack, Romance Pack, and Travel Pack are the bonus packs that will allow you to create everlasting sweet memories.
Super Fast 64-bit Ready: The 64 bit PowerDirector and PhotoDirector makes it easy to edit the most intensive video or photo, simple and quick.

Huge file size: The huge size of the file makes downloading and installing difficult. It will consume around 2GB of your space.

Highlights

- Conveniently organized
- UltraHD 4K
- PowerDVD 14
- Unique PowerStarter launcher
- Play H.265 Video
- Power Media Player
- Super Fast 64-bit Ready
- PowerDirector Mobile
- PhotoDirector Mobile
- Apps for Android, iOS & Windows 8

Pros

- Unparalleled ease-of-use
- Cross-platform
- Suitable for many media tasks
- Unified interface
- Cost effective
- Support for dozens of formats
- Mobile Apps
- Touchscreen compatibility

Cons

- The installation process is bit lengthy
- Huge file size

Cyberlink Media Suite Vs Roxio Creator NXT

Corel, the makers of VideoStudio Pro, has brought the Roxio Creator NXT to the market. Almost all the applications in Roxio Creator NXT excellently match with the powerful tools of Cyberlink media suite. In Roxio Creator NXT, Corel have included their flagship image editor PaintShop Pro for editing photos to give the freedom for the users to create as well as enhance dramatic images than any other image software can do. The Roxio Creator NXT Pro suite comes with a wide range of features to clean up sound files, edit video files, and manipulate images than any other media suite can do.

In Cyberlink, you can enhance your photos with the PhotoDirector. Even though, the Roxio features 14 amazing video effects, it fails to excel the PowerDirector in Cyberlink. Roxio also lacks the three fantastic mobile app tools that lets you playback, edit, or share your videos and images on the go. Media suite is the easiest and powerful media suite that uses advanced and award winning utilities to enhance your theater experience.

Verdict

Enjoy the world of digital entertainment on your PC with the all-in-one multimedia Cyberlink Media Suite 12. The tools included in CyberLink Media Suite 12 encompass all the applications you need to make the most of your multimedia library. No matter whether you are in school or at home, the Cyberlink Media Suite 12 contains all the essential tools for creating, burning, playing, converting, and sharing videos and photos and is sure to enhance your home theatre experience.
35% Off Media Suite 13 Ultra Coupon

Upto 70% Off Promo Codes

$129.95 $90.96


No code required