 Parallels Desktop 11 for MAC vs VMware Fusion 8 Comparison Review
Posted by
Paul Wilson
on 16.11.2015
Both Fusion 8 and Parallel 11 guarantee seamless switching between Mac and Windows. When Fusion proved to be more reliable, Parallels scored victory in easy and fast integration. When compared to the older versions, VMware has improved their response time, making it one of the best choices of professionals.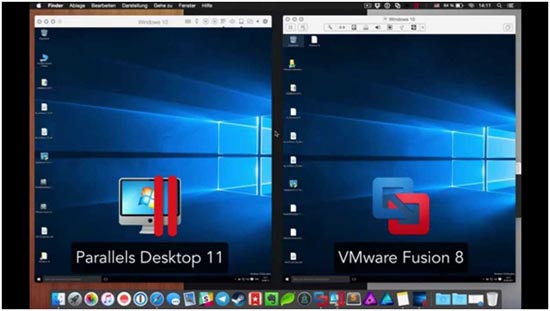 If you are using VMware Fusion 8, then you do not require any additional set up to use your favorite Windows applications. You can use them in the same way as you use the Mac apps. You can simply use drag-and-drop or copy-paste and use it seamlessly. Fusion does not let the user feel that they are running the Windows application on Mac. It also lets the user to launch Windows applications directly from the Dock, Spotlight or Launchpad. The user can use the Mac shortcuts and intuitive gestures to easily interact with the Windows applications.
| | | |
| --- | --- | --- |
| Features | VMware Fusion 8 | Parallels Desktop 11 for MAC |
| OpenGL 3.3 | Yes | No |
| Digital Assistance | Yes | Yes |
| McAfee Anti-Virus (For 90 days) | Yes | No |
| Advanced networking Tools | Yes | Yes |
| Run Windows on Mac | Yes | Yes |
| Use graphics and resource intensive apps without lag | Up to 2 GB | Limited to 256 Mb |
| Customer support | 18 months | First 30 days |
| Boot Camp | Yes | Yes |
| In-product tutorials | Yes | No |
| License cost for 3 personal Macs | $79.99 | $239.97 |
| Efficient power management | Yes | Yes |
| VM Capabilities | 64 GB RAM / 16 vCPUs | 8 GB RAM / 4 vCPUs |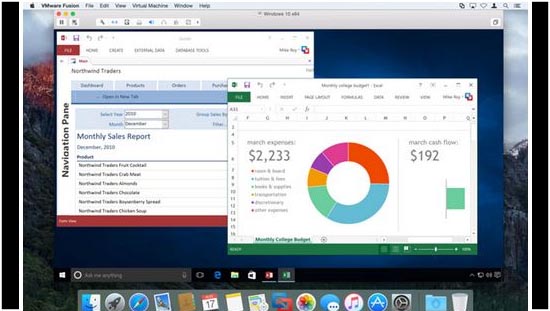 Migration made simple

The Fusion PC migration assistant for Windows offers a swift way to transfer your entire PC to your Mac in no time. The facile access to all the files from your old PC directly on your Mac as well as access to your Windows applications takes your virtualization experience to the next level, helping you to enjoy the best of both worlds.

Following the set up assistant of the Parallels makes migration of files, bookmarks, folders, application etc… an elementary task for the users. The new functionality included in Parallels Desktop 11 -Microsoft's virtual assistant, Cortana, gives a sheer eye-catching presentation to the first time users.

Unity and Coherence

People usually prefer to switch between Windows and Mac apps, VMware and Parallels uses the options Unity and Coherence respectively to handle the switching. When these modes are enabled, it lets the user feel that they are using a single operating system, since it facilitate each Windows application get its own window. The basic working of these modes is same, except the ways that each program handles the task. These modes not only lets you copy, drag, paste or drop, but also lets you share your folders and app.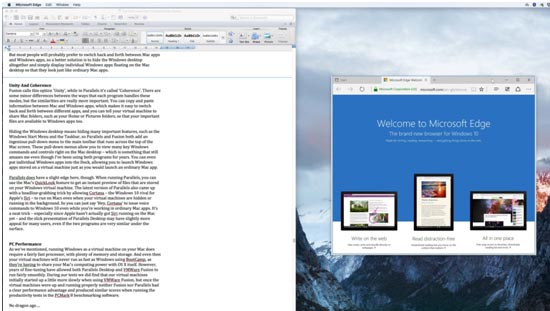 Performance

A number of VM software along with Fusion has been tested. Fusion 8 is tested individually in different areas and the results prove that it is the real winner, as it has scored brilliantly in almost all number of tests. Fusion 8 support DirectX 10 and OpenGL 3.3 for up to 65% faster graphics. It is optimized to support even the latest version of Mac.

Parallels have scored good results in the tests, and in some tests Fusion 8 had a narrow win. One of the outstanding feature that can improve the performance is the One-click tuning feature of Parallels Desktop 11. It allows the user to optimize the virtual machine setting and performance to match your requirements.
VM Showdown X265 BenchMark | Average FPS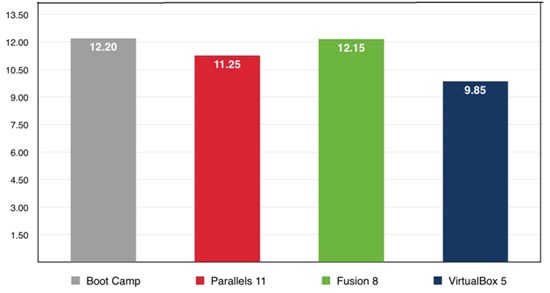 VM BenchMark X265 Showdown USB 3.0 Writes | Megabytes Per Second at Increasing Transfer Size
Boot Camp

Fusion frees the user from the worries of shifting between the Windows or Mac at startup, as it lets both applications run side-by-side from your existing Boot Camp partition. You can easily import your existing Boot Camp partition, and also reclaim the unused space in the partition. You need not wait for the windows to reboot to use features like snapshots and AutoProtect.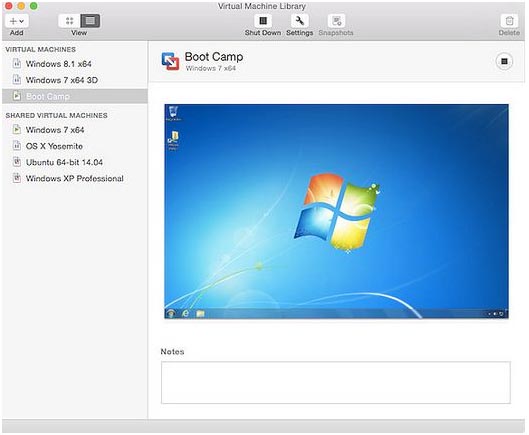 Price
VMware Fusion 8 is less costly when compared to Parallel Desktop 11. Moreover, the company has announced great discounts for the users who are using VMware version 7 or 6 and wish to upgrade to 8, or if you are migrating from Parallels. The lucky ones are those, who have purchased Fusion 7 between July 29th and September 30th, 2015, as they can get Version 8 free of cost.
Parallels have not included some credible features like integration with Microsoft's Cortana virtual assistant, new power-saving travel mode and some developer-focused features to their basic version. So, the basic users need to pay more and upgrade to higher versions to enjoy these features.
VMware Fusion Pros


- Quick
- Highly Responsive
- Ease of use
- Affordable
- Simple Migration Assistant
- Quick Launcher

VMware Fusion Cons


- For the first time users the GUI of VMware may not appear as attractive as Parallels
- Lacks Windows Quick Look support
Conclusion
Always choose a solution that is simple, but powerful and secure enough to keep your IT investments safe. Depending on the size and demand of your organization, you can select the cost-effective and scalable solution that can fulfill all your requirements. VMware Fusion 8 is trouble-free and easy to use, as it is regarded as the simplest way to run windows application on your Mac that too without rebooting. VMware and Parallels have packed more or less the same core features, but when it comes to cost, VMware is more affordable. VMware Fusion 8 is the perfect pick for those who wish to run CPU intensive apps, without compromising on the performance.
Check also
Parallels Desktop 10 for MAC vs VMware Fusion 7 Comparison


$10 Parallels Desktop 11 for MAC 1 year subscription
Parallels Coupon Codes


$79.99 $69.99


No code required


30% Off VMware Fusion 8 Professional Coupon
VMware Coupon Codes

$149.5 $104.65


No code required