Acronis True Image 2021 Review: Does It Worth A Penny?
If you are looking for a quick answer then "NO" and here is why. First of all this is not a "paid review" I just want to share my real negative experience with Acronis True Image so you will not make the same mistake. All Acronis negative feedbacks, ratings and trends can be easily checked by you.
I strongly recommend that you take a closer look at the best Acronis alternatives Paragon Hard Disk Manager, Novastor NovaBackup, AOMEI Backupper Pro, Easeus Todo Backup or others. I found Paragon Hard Disk Manager the best choice as it combines backup/recovery/clone with disk management solution in a single license. You can find exclusive Paragon Software coupons and discounts on our website here. Why I do not recommend Acronis True Image and advice Paragon Hard Disk Manager as the best backup/recovery solution? So there are several reasons you just can't ignore and I consider it my duty to warn you about them.
---
PROS:
Secure cloud backup with double protection
Non-stop backup
CONS:
Low users' ratings and feedback
May cause a system crash
The overall declining popularity
Slow backup/recovery speed
Cloning issues
1. Acronis Has Lost Users' Trust
Acronis loses their trust among users from year to year. As a confirmation you can find plenty negative real Acronis user's reviews and ratings which can be easily found on many forums. You can check it yourself, just type "acronis review forum" or "acronis users ratings" in Google or similar keywords. And this is not just negative attitude, people face real problems after installing and using Acronis True Image, they are telling about completely ruined PC/laptops when they try to perform a backup or disk clone. So it looks like Acronis True Image causes some software related issues with your system which lead to hardware and hard disks problems.
2. Acronis True Image Low Rating and Feedback
User feedback reveals if a program delivers on its promises and I visited various forums, social media sites and review sites to find out how real customers feel about Acronis True Image 2021.
The first consumer review website I visited was Trustpilot where the program received an unimpressive TrustScore of 1.7 out of 5 from about 20 reviews (a bad mark), here is the link. Users complained about buggy software and slow customer service. Few long-term users of Acronis complained about slow service and occasional software issues that have forced them to look elsewhere even after using Acronis True Image for years.
On TrustRadius, a similar review site, the scenario was completely different, with Acronis True Image scoring 9.2 out of 10 from 15 reviews. The backup and restore functions received praise from numerous users but the software bugs seemed to be a bone of contention for several users that Acronis needs to address immediately if they want to preserve their reputation. Some users also mentioned cloning issues.
The program's rating on ResellerRatings was abysmal, to say the least and the company scored a mere 1 out of 10 from 52 reviews. The unreliable customer service and bad software experience were still the major drawbacks of the program as pointed out by users in other review sites as well.
The Acronis forum discuses several recurring issues with the True Image 2021 and offers helpful advice as well as technical support. While there are several issues on the forum, I decided to focus on the cloning issue which seemed to be the most relevant one according to numerous users on various consumer review sites. Here is the link to Acronis forum with the mentioned issue.
3. Poor Acronis Support
Even if you close your eyes to the above mentioned arguments, decide to buy Acronis True Image and run into real problems (you may of course not face the troubles if you are a lucky winner), you may not be able to solve them by contacting the support. Acronis support is based in India, again many negative reviews can be found on forums/reviews/blogs, twitter and facebook accounts. It looks like Acronis support drives people crazy as they are not tech savvy so they can't solve technical issues. The level of English of Acronis support is very low, they can hardly understand you and you will hardly them because their pronunciation is very poor, the same goes for email and chat support.
4. Acronis Declining Popularity
Ever-declining Acronis popularity (as a company) can also be confirmed with Google Trends. You can also easily check it yourself. Google trends show the popularity of any search query among real users depending on their search activity. Here are the results of users search quires for the keywords "Acronis" and "Acronis True Image" for the past 5 years.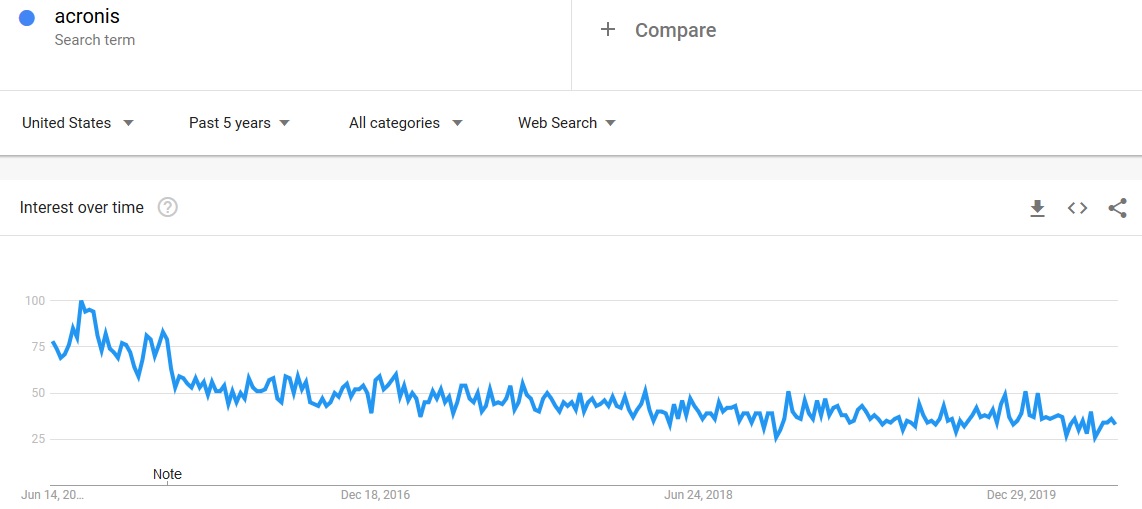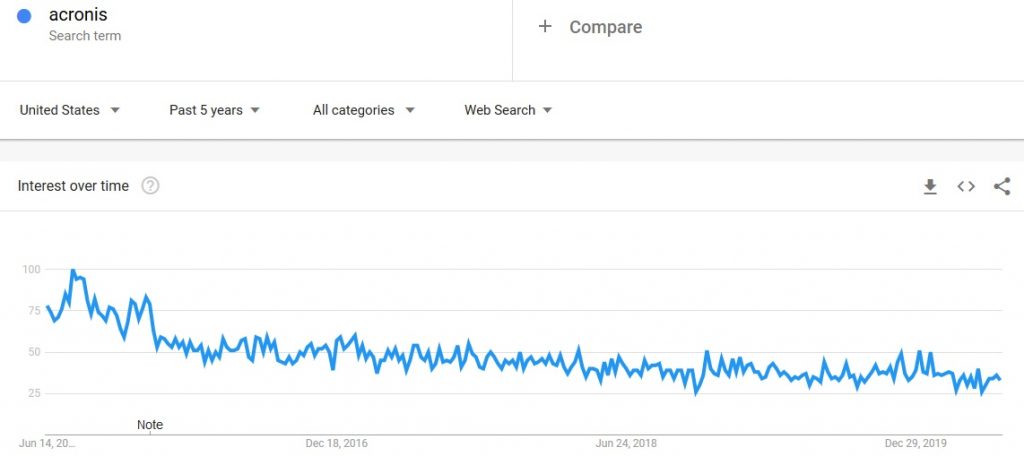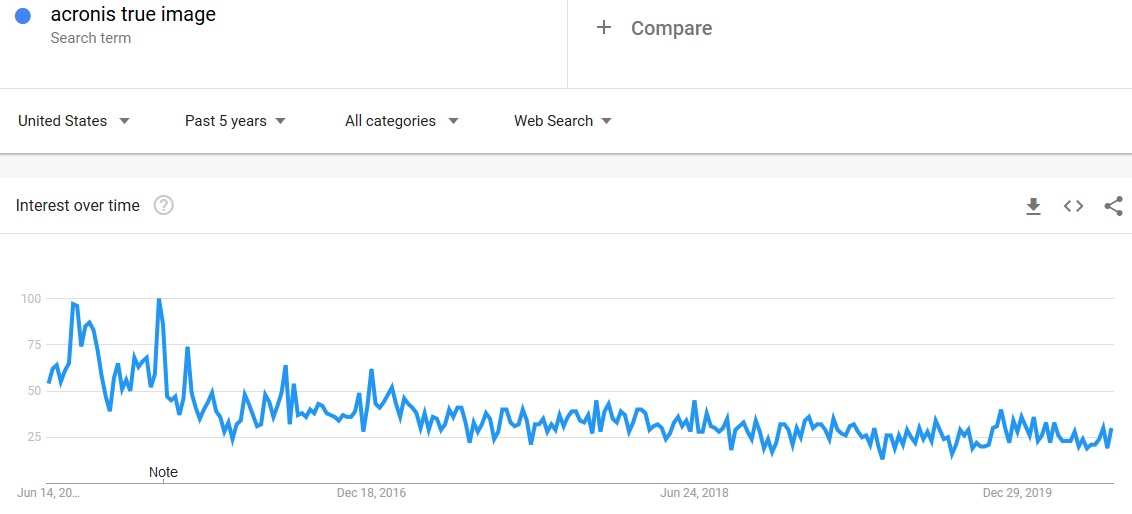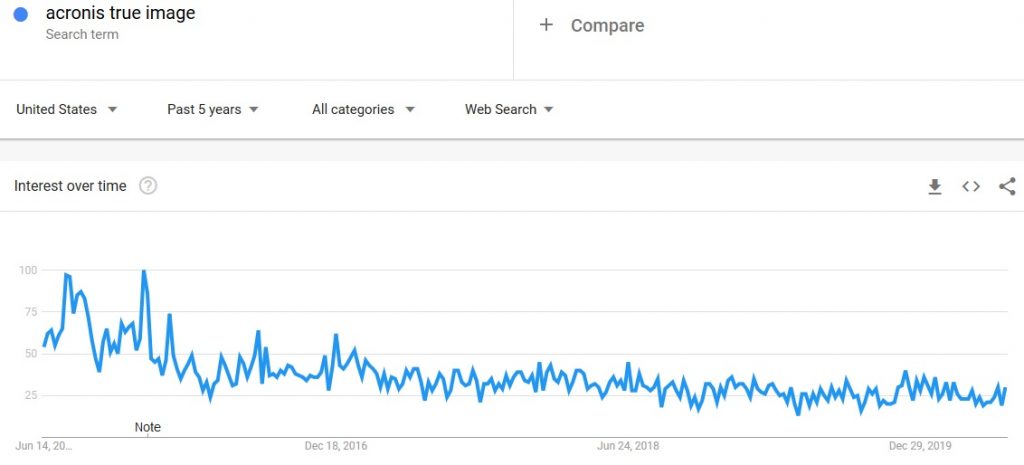 As you can see there is a significant decline in both variants starting from 2016 and from year to year the users interest in Acronis software just go down.
If you consider a good, reliable backup/recovery and disk clone software I really recommend you to check some alternatives. After reviewing a dozen of similar software I found that Paragon Hard Disk Manager will be a perfect one.
5. Acronis True Image 2021 Personal Experience
I have used Acronis True Image 2021 for a considerable period to be able to point out the issues that bother me. While I find the program to be feature-rich and quite efficient, there are several aspects where it needs improvement. The trial version of the software is a mammoth 600 MB in size and download as well as installation takes considerable time. The main program also boots slowly. The installer did not run smoothly and the "Install" sign was still displayed on my computer screen even as the installation process ran in the background. On clicking "Install" again, the installer froze and I had to restart the installation process.
The other complaints I have against True Image 2021 are unexpectedly buggy software and a UI that needs improvement. The program can't be fully terminated and continues to run in the background even after I close the main program. The program remains active via a system tray icon and can't be closed by any means. Furthermore, some Acronis features always run in the background even if you are not using them and deplete system resources. A less pertinent issue yet one that I could not ignore was the UI displaying some features, such as "Archive" and "Sync" among others, on the sidebar even though users of the standard version can't access the features.
Though True Image 2021 is one of the fastest programs I have used to date, it is not the fastest by a long margin. The backup of my entire system partition of just over 200 GB took roughly an hour to completebut my system remained responsive during the entire time.Small and indistinct '+' signs for expanding trees coupled with limited language support and organizational issues add to the inefficiency of the UI. Acronis doesn't provide two-factor authentication, a salient security feature that every cloud-based program, especially backup programs that holdpersonal data, should provide to protect users from password thieves and hackers.
6. Acronis True Image In The News
Several users have faced backup settings issues with True Image 2021 that resulted in some of the backup settings being reset to the program's default values. Acronis, in an official statement, blamed the issues on the cloud and informed customers of a problem in its data center. While the company assured customers that appropriate steps have been taken to address the issue and prevent its spread, you can find more information in this article.
Acronis True Image 2021 vs Competitors


Paragon Hard Disk Manager Suite is one of the main competitors of Acronis True Image 2021 and it supports up to 3 devices with one license as compared to one device per license allowed by True Image. While both programs offer a similar set of features, they differ in terms of functionality and few extra advanced features that are available with one but not with the other. Paragon allowed me to adjust its equivalent setting while the Compression option in Acronis was disabled and stuck at "Normal". The Hard Disk Manager Suite was also faster than True Image 2021. A backup of a test drive of around 15 GB took just over 6 minutes with True Image, a tad slower than the 5 minutes taken by Paragon's Suite.
However, True Image's estimation of the time remaining till completion was far more accurate than the wildly fluctuating estimates displayed by Paragon. Both Paragon and Acronis offer an efficient notification feature but Acronis provides more notification options than Acronis. Notifications for backup actions, backup session completion, and even insufficient disk space can be emailed to the user. Some important features offered by Paragon but not Acronis include rescue disk creator, flexible restore and intelligent automaton. Though True Image offers flexible restore options, Paragon offered me greater control over the process. Paragon's UI is also better designed than Acronis and is much easier to navigate.
The Hard Disk Manager Suite installed smoothly and without the issues that I faced with True Image. Paragon also offers a better after-sales experience with a more efficient customer support service than Acronis. Paragon provides support via email which Acronis lacks.

April Deal! 50% Off Paragon Hard Disk Manager 17 Advanced Discount
50% Off Paragon Hard Disk Manager 17 Advanced

AOMEI Backupper Professional is a backup solution similar to Acronis but is much simpler than True Image. The AOMEI UI is not as cluttered with inessential as that of True Image and its software runs more smoothly compared to True Image's buggy software that numerous users complained about on various review websites. The True Image program is prone to frequent freezing because of bugs that Acronis is yet to take care of. The frequent freezes make data inaccessible and display unhelpful error messages with no further instructions to solve the issues. On the other hand, Backupper Professional runs smoothly with no visible lags or software bugs.
AOMEI uses cloning systems for disaster recovery which is more efficient and reliable than what Acronis offers. Backupper is easier to set up than True Image and there are no glitches like the one I experienced with True Image. True Image's notification function is still one of the best in the market and it sends detailed logs in notifications by default. Acronis provides bare metal recovery, a feature that AOMEI lacks. While AOMEI is only compatible with Windows, Acronis works with Windows, Linux, Android, iOS, macOS and web-based platforms. However, AOMEI supports at least three languages including English, Turkish and Dutch whereas Acronis supports only English.
Though AOMEI lacks certain advanced features offered by Acronis, I will choose the smooth functioning of AOMEI Backupper with limited features over the buggy functioning of True Image with numerous features that I may or may not need. AOMEI offers lower licensing costs compared to competitors and has better ratings from user reviews on consumer review sites than Acronis. The customer support offered by Acronis is average whereas AOMEI provides great technical support. Furthermore, Panasonic and Samsung are among the prominent clients that use AOMEI Backupper Professional.

April Deal! 80% Off AOMEI Backupper Professional + Lifetime Free Upgrades
80% Off AOMEI Backupper Pro + Lifetime Free Upgrades


The free Easeus Todo Backup version offers such features as backup, recovery, disks partitions, scheduling and disk cloning among others. It supports incremental as well as differential backups and can backup to a cloud.The free version even comes with 16 TB hard drive capacity. While True Image offers a free trial version, it does not offer the range of features that the free Easeus version offers. Easeus provides extensive language support including English, German, Japanese, French, Italian, Hindi, Chinese and Spanish among others. Acronis is compatible with all commonly available platforms and so is Easeus except for Linux.
Feature-wise, both the programs offer similar functions but Acronis offers a lot more features even with the Standard version, some which many users may not need at all. If countless features are not necessary to you then Todo Backup is a better choice as it sacrifices the number of features to offer a lighter UI and a cleaner experience. The True Image UI may look modern but does not run as smoothly as the Todo UI and I encountered glitches several times. The average UI performance of True Image can be blamed on the sheer number of features, some of which are honestly unnecessary, that it packs into the UI. Acronis bare metal recovery that Easeus lacks. On the other hand, Easeus allows system transfer to different PC and schedule backups based on events.
True Image 2021 is marketed as a backup solution for small and medium businesses whereas Todo Backup can also serve large companies well in addition to efficiently serving small and medium businesses. Easeus provides excellent customer service via email, phone, tickets and live support. Acronis does not offer email support and its customer support is not as highly rated by customers as that of Easeus. Microsoft, IBM, FedEx are some prominent Easeus clients.

April Deal! 50% Off EaseUS Todo Backup Home 13
50% Off EaseUS Todo Backup Home 13 (1 Year Subscription)

NovaStor NovaBackup allows users to create images of data and the whole system, restore images  and schedule backups. NovaStor's Disaster Recovery feature is unique and offers better security than Acronis. Acronis offers a similar feature known as Acronis True Image with more customizability options such as full, incremental, differential methods, version control options, compression level, encryption and scheduling. While both Acronis and NovaStor can create backup in different destinations, each offers one destination that is not offered by the other. Unlike NovaBackup, True Image is compatible with the newest OS version of Microsoft, Windows 10.
NovaBackup integrations such services as Dropbox, OneDrive, Google Drive, SkyDrive and SafeSync among others. Acronis features less integrated services and offers Office 365 backup with only the Advanced and Premium versions. The True Image software contains several bugs and suffers from performance issues that are not experienced with NovaBackup. Furthermore, NovaBackup's UI was easier for me to use than True Image's feature-packed UI. NovaBackup also installed with less fuss than True Image and requires fewer system resources than True Image.
A huge advantage of NovaBackup over True Image 2021 is it lets users save more via plenty of NovaStor coupons, discounts, and deals in addition to being cheaper than the latter. While Acronis does not offer email support, NovaStor provides complete customer service via email, phone, live support and tickets. The NovaStor customer support team also responds faster and receivedfewer customer complaints than Acronis on consumer review sites.

April Deal! 70% Off NovaBACKUP 19 (1 PC License)
70% Off NovaBACKUP 19 for 1 Machine with FREE E-mail Support and FREE Upgrades
Acronis True Image Step-by-step Tutorials
To add a positive note to this review I have added some useful Acronis True Image step-by-step instructions in case it can help you.
1. How to Create Acronis True Image Bootable CD/DVD or USB?
Insert a CD/DVD into the optical drive or plug in a USB drive
Launch Acronis True Image
In the main window, open Tools on the side bar and click Rescue Media Builder
In the popup window, select Acronis Bootable Media option
In the next window, select the disc in which you want to create the bootable media
Click Proceed in the next step and Acronis will create bootable disc
2. How to Recover the System Using Acronis Bootable Media?
Turn on the computer and insert the CD/DVD or connect USB drive in which the rescue media is to be created
Enter the BIOS setup and arrange the rescue media drive as the first boot device in the boot order
Boot the computer from the rescue media and choose Acronis True Image
In the newly opened True Image window, click on Home and select My Discs option below Recover in the home screen
Now select the backup to be used for recovery and if the backups are not displayed, you can manually specify the path to the backup
Open the Recovery Method and select Recover whole discs and partitions
Open What to recover option and select the system partition, it is usually designated as 'C'
Go to Settings of partition C, here you can check the settings and if the default settings are correct, click Next or you can make the changes before proceeding any further
Click the Finish button and True Image will show you the summary of the Deleting partition and Recovering partition. The volume of the two partitions should be the same unless you resized it in the settings. Click Proceed to continue
When the recovery process is finished, exit the setup and remove the rescue media. Now restore the original boot order and reboot the system. You can see that Acronis True Image has recovered your system as per your expectations
Things you should keep in mind
If you have created entire disk and partitions backup from your source HDD, including all those hidden partitions, restoring this to the new SSD drive and achieving the same result provided you did a clone, but it comes with the additional protection of having the backup which you can use should anything goes wrong.
Whether you are doing a restore or a clone, the bootable Rescue Media of Acronis ought to be booted using the same mode as you do with your Windows OS to boot. This means if the Windows uses the EFI bootloader (which means it has Secure Boot), you should be using the same for Acronis Rescue Media as well.
I used the Windows PE version of Acronis Rescue Media, and you should see the same or almost identical panels if you are using the Linux-based, standard rescue media. The only difference you are going to experience is that the standard or Linux media doesn't come with an additional device support, which is the only difference.
Acronis Backup offers the users comprehensive and flexible options for taking backup on their Windows machines and restore entire systems and to restore files and folders as well. Whether you are running a small business or you are head of a rather big organization, follow the steps mentioned above to restore full system backup using bootable disc.
3. How to Backup Disks and Partitions to the Acronis Cloud?
Launch Acronis True Image
On the main window, click the Backup button on the sidebar
Now click the plus sign at the bottom of the backup list to add a new backup
Type a name for the backup so that you can easily identify it in the due course
Click the backup source icon on the screen and now, select the Discs and partitions
A new window opens showing all the discs and partitions in your system. You can select them by checking the boxes next to the discs or partitions you want to backup, and click OK
Click the backup destination icon on the main window and select Acronis Cloud
You need to sign in to your Acronis account in order to create a backup in the cloud, so sign in with your id and password. If you do not have an account, click the Create Account button and create a new account
If you want to set the backup options such as scheduling, backup schemes or password protection, click Options button. You can also skip this step
Now click Backup Now button to run the backup to Acronis Cloud
Acronis True Image 2021 is an efficient backup and recovery program but its proprietary backup format can be inconvenient in the long run. The UI looks attractive and modern despite being crammed with features. While most features are useful, some features are redundant on Windows 10 and feel like unnecessary padding. For example, the system cleaner feature works fine but not as good as the Windows built-in tools. The Acronis series of software improves with each new version and I am hoping the next version rectifies the bugs this one suffers from.

April Deal! 80% Off Acronis True Image 2021 Cyber Protection
80% Off Acronis True Image 2021 Cyber Protection