 Kaspersky Internet Security 2016 vs BitDefender Internet Security 2016 Comaprison Review
Posted by
Paul Wilson
on 11.08.2015
New Features in Kapsersky Internet Security 2016

In the new version, Kaspersky Labs has added many novel advanced features to make it more effective. It includes

- New Private browsing functionality
- New System Changes control functionality
- Enact Trusted Application mode without analysis of installed applications
- Create firewall rules in notification windows
- Improved Interaction with Browsers with Single extension against multiple plug-ins
- Enhanced anti-phishing protection
- Improved GUI
- Improved and powerful Manage Resources window
- Improved Protected Browser operations
- Protection against unauthorized audio recording
- Reduced size of application package
Kaspersky Internet Security 2016 screenshots
| | | |
| --- | --- | --- |
| Features | Kaspersky Internet Security 2016 | BitDefender Internet Security 2016 |
| Real-time Protection | Yes | Yes |
| Private Browsing function | Yes | Yes |
| Comprehensive anti-virus protection | Yes | Yes |
| Two-Way Firewall | Yes | Yes |
| Identity & Financial Protection | Yes | Yes |
| Protection for Android and Mac | Yes | Yes |
| File Encryption | Yes | No |
| File Shredder | Yes | No |
| Windows 10 compatibility | No | Yes |
| One touch security | No | Yes |
| Ransom-ware protection | No | Yes |
| Auto-Pilot | No | Yes |
| Password generator | No | Yes |
| Profiles | No | Yes |
| Game Mode | Yes | No |
| Parental control | Yes | Yes |
| PC Cleanup tools | Yes | Yes |
50% Off Kaspersky Internet Security 2016 Coupon
Upto 50% discount coupons

$79.99 $39.99
Bitdefender offers some unique features that make it more simple and versatile than Kaspersky. That includes:

- Windows 10 compatibility: Bitdefender Internet Security 2016 is Windows 10 ready and it works seamlessly on devices with this operating system.

- Ransom-ware Protection: It protects all your important documents, personal videos, and photographs from being seized by malware for ransom.

- Firewall optimized for Windows 10: The new version comes with a completely overhauled firewall, which provides unmatched network protection and it is fully compatible with new Windows 10 OS.

- Password Generator: Bitdefender 2016 includes a powerful password generator that can create strong passwords for your operations. All you have to do is to click on the symbol displayed in the password fields and the software will do the rest.

- Bitdefender Profiles: This feature automatically detect your activity such as work, watching videos or play games and temporarily blocks other applications from popping up and slowing the system performance.

- Bitdefender Auto-pilot: It relieves you from making complicated security related decisions. Bitdefender autopilot can make optimal decisions and there will be no pop-ups or alerts to disturb you.

Anti-Virus Tests

In a Anti-virus detection test conducted by a third party in a foolproof test facility, comparing top ten Internet Security solutions, Kapsersky Internet Security came up with the top detection of 100 percent of the exploits. The table below shows the performance of each software.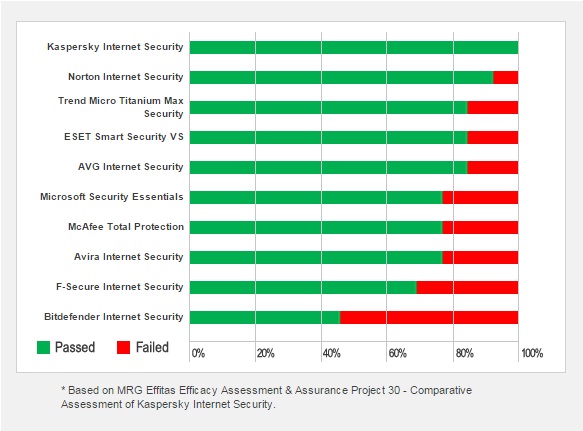 50% Off BitDefender Family Pack 2017
70% Off BitDefender Coupon Codes

$119.95 $59.98


No code required




No code required