 Posted by
Paul Wilson
on 15.07.2017
73% Off BitDefender Total Security Multi-Device 2018 Coupon
(5 Devices / 1 year)
BitDefender 2018 Coupons
$89.99 $24.98


No code required


Bitdefender Total Security 2018 Review: Four-in-One Protection for Your PC


With all the ransomware attacks around the world and day to day malicious fishing, the security of your personal data is at a greater risk. As hackers get their hands on more advanced tools, you need to improve the security of your data too. Anti-virus software programs such as the Bitdefender Total Security 2018 are essential for anyone working on a computer or mobile device. Privacy and data theft protection is of the utmost important to the makers of the PC security software program.

Bitdefender has come up with an innovative four-in-one security product to beef up your cyber security. The Bitdefender Total Security is the latest and most impressive in a long line of cyber protection products. Today we are going to discuss just why the Bitdefender Total Security is taking the cyber world by storm.

4-in-1 total protection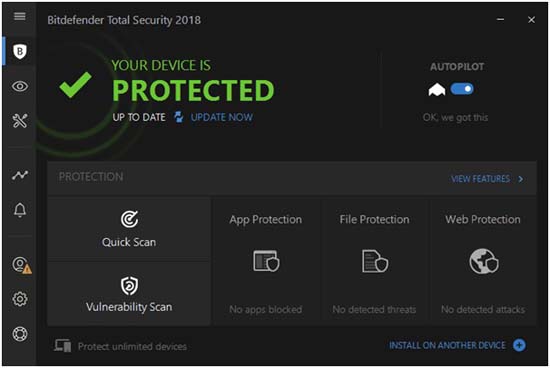 Bitdefender Total Security 2018 provides protection for all the four popular operating systems. It includes protection for Windows, Mac OS, Android and iOs (coming soon). This all round protection provided by Bitdefender is the first of its kind. Not only does it cover all your devices whatever platform you may be working on but also covers the basics of cyber security. Although it provides maximum features like cloud integration, social media protection and secure browsing, it also takes care of the security of your other devices.

The anti-theft feature along with the app lock works great for your android devices. Anti-phishing quality of the software allows it to sniff out potentially harmful websites masquerading as trustworthy sites. Their improved filtering system checks fraudulent offers on various websites and detects infected links and with its bulky firewall blocks the malicious site from loading.

Having just one account is enough

Yes, only one account will handle all your privacy needs. Privacy on the internet is hard to come by these days and with unwanted adware and malware constantly popping up on social media and e-commerce sites, it is an increasingly uphill battle for cyber security experts. However, the Bitdefender security suite answers all your cyber security prayers and that too with only one product for various platforms. Manage your browser, android or iOS mobile device on the go and get 24/7 security updates. Also with this single account, you get direct access to the support team. You will get all of this with just one license - one product, one account, four times the security.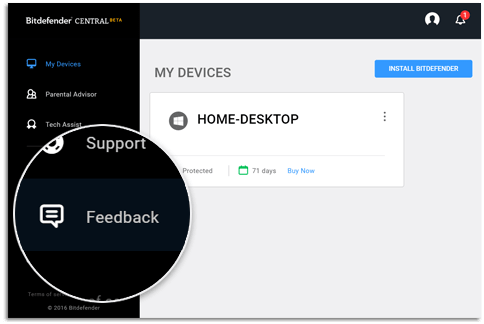 Secure webcam

Bet you think that is a thing of the past. Well, not quite. The Bitdefender Total Security 2018 puts the user's privacy above everything else. Keeping that in mind they have covered one of the most vulnerable spots that hackers often target- the webcam. With the total security package, you will also get improved webcam protection that lets you carry on with your life in the privacy of your own home without having to lose a good night's sleep worrying over prying eyes.

With the Webcam protection you are in complete control of your webcam as you will be notified instantly if any application or program running on your computer tries to access your webcam. If you feel suspicious you can deny access to your webcam. No more peeping!

Complete protection and continuous updates

'No loose ends' is the core belief the Bitdefender team strives by. With all around protection the package is hard to maintain. However, the Bitdefender total security is continuously updated with new versions and features which allow you to keep up with latest developments and keep the security up to date and ready to fight the ever growing and ever adapting new cyber threats.

Although one can opt out of the continuous protection service, it is advisable to avail the service as it comes in very handy as you don't have to fret every time your subscription runs out. With continuous protection the application updates and upgrades automatically ensuring there is no lapse of security.