 Iolo System Mechanic 15.5 vs CCleaner 5 Professional Plus Comparison
Posted by
Paul Wilson
on 14.06.2016
Iolo System Mechanic 15.5 comes with an enhanced privacy protection feature that has just been upgraded for better and faster efficiencies. The in-built optimization solution provides a tune-up utility function that cannot be compared to any other. This software works for numerous platforms, including; Windows XP, Windows Vista, and Windows 7. The new upgrades included make the software compatible with Windows 10 apps. Mechanic 15.5 is an all-in-one solution for optimizing your system, it comes with over 50 performance enhancing tools and features.
| | | |
| --- | --- | --- |
| Features | Iolo System Mechanic 15.5 | CCleaner 5 Professional Plus |
| Resources | Iolo system mechanic provides heavier options and it is richer in features and options than CCleaner professional plus | - |
| Costs | Costs $40 , but the free version is not as fully packed as paid version | It is available for free, and the paid version costs much less |
| Usage | The software is available for all Windows platforms, including Windows XP, Vista, 7, and the new Windows 10 but not available for Microsoft Enterprise | It is available for all Windows platforms, including Microsoft Enterprise |
| Extras | It comes with both the Microsoft data collection and Telemetry services | Tough it provides statistics on data obtained from defragmentation and cleaning procedures, it does not come with a Telemetry service |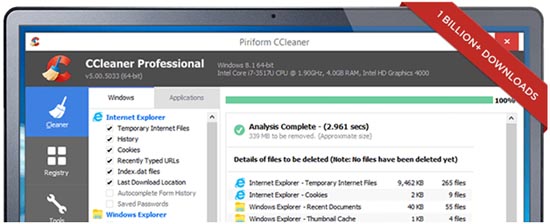 Iolo System Mechanic can perform virtually everything, from scanning, to optimizing, cleaning, and securing your PC through a one-stop system maintenance interface. It repairs and then speed up your PC performance within few minutes.
If your computer device is not performing for instance, the Iolo System Mechanical software will run a quick scan and then defragment the hard drive, with the purpose of optimizing your Internet connection settings, thus you can achieve faster download and uploads. It also speeds up your PC by defragmenting and Compacting your PC Registry, or Optimizing the booting process through the removal of some unnecessary startup programs. It provides a temporary performance boost by shutting down some selected background processes or apps.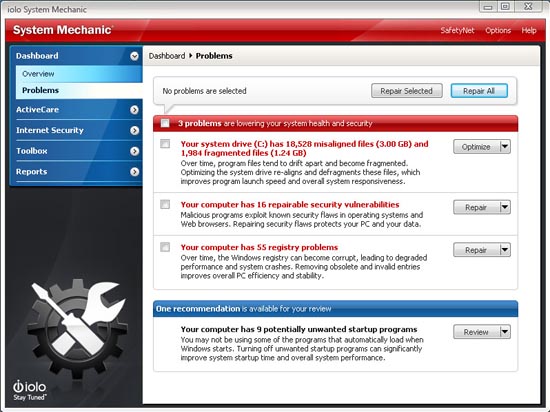 Other tools in the Iolo System Mechanic 15.5 suite can perform functions such as the use of the Program Accelerator to optimize your PC applications through the grouping of related files together. It also comes with the AcceleWrite Technology that boosts the performances of your drives, while the SSD Accelerator, will help protect the drive when they are running at their peak performances. The software will enhance your PC system security, detect some unnecessary duplicated files, and provides an alternative recovery option for your Windows, just in case it doesn't boot. It also comes with a Tweaking tool that create a short cut to provide an easy access to more than 100 Windows keys, while the Advanced Uninstaller option removes all unnecessary apps to free up some space in your PC . This software comes with a 30-day free trial version.

The CCleaner 5 Professional Plus software is packed with some advance PC optimization features that cleans, update and protect your PC from malicious contents. The software updates automatically and it works online or offline without slowing down the performance of your PC. When cookies stay on your computer, advertisers will permanently track what you do online, but with CCleaner 5 Professional Plus, you will remain anonymous, because the software will erase your browser settings for safer online browsing. With this software, you will experience fewer errors and no crashes, it works underground and disable all unnecessary or unneeded programs.

This software is also capable of performing several other tasks, it improves your PC's Microsoft Edge cache, optimizes the detection and cleaning of all portable browsers. Monitoring functionality is improved as well as Browser plugin management. It provides bug fixes. It is regarded as the world's most user-friendly PC optimization software because it is very easy to use.

The software was manufactured and released by Piriform technologies, and it is a 4-in-1 software , combining the powers of the CCleaner, Defraggler, Recuva, and Speccy. The software cleans across multiple profiles, advanced monitoring and scheduling. The patented technology provide with this software ensures that the full control of your PC can be regained within few minutes, likewise, the PC becomes more secure, with few crashes and the ability to recover lost files or keep track of everything located inside your PC. You will also receive detailed statistics of every component of your PC hardware.



60% Off Iolo System Mechanic Pro 15 Coupon

Iolo Coupon Codes
$69.95 $27.98